Los miembros de CarePass
TM
Mostrando 1-7 de
7 productos
Cuidado de la salud en el hogar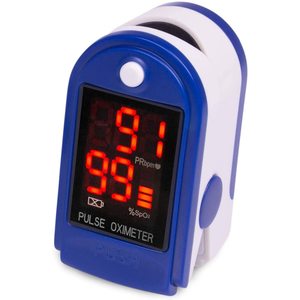 Roscoe Medical - Oxímetro de pulso para dedo con monitor de saturación de oxígeno
Roscoe Medical
o
en pedidos de $35 o más.
CVS Health - Oxímetro de pulso
CVS Health
Precio con CarePass
™
$39.99
o
en pedidos de $35 o más.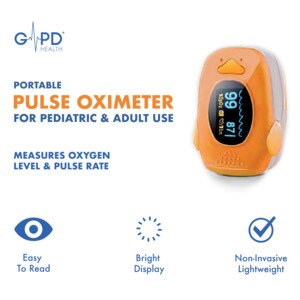 GPD Health, Pediatric and Adult Pulse Oximeter, 1 EA
GPD Health
o
en pedidos de $35 o más.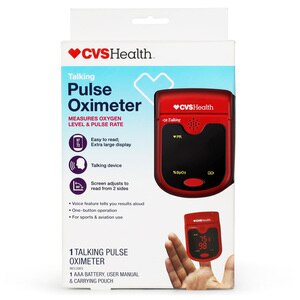 CVS - Oxímetro de pulso parlante
CVS Health
Precio con CarePass
™
$47.99
Envío gratis con pedidos de $35 o más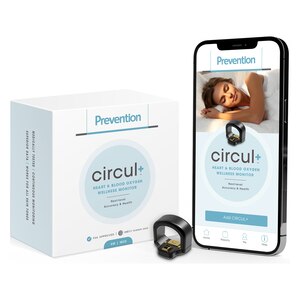 Envío gratis con pedidos de $35 o más
Los precios en línea puede ser diferentes a los precios en tiendas.
What are the Best Pulse Oximeters Brands?
What Is A Pulse Oximeter?
A pulse oximeter is a small device that helps you measure the levels of oxygen saturation in the blood. This portable device can be clipped onto a finger, toe, or earlobe. Pulse oximeters are especially helpful for those with respiratory problems such as lung cancer, asthma, heart issues, and many other health concerns. It can also be useful if you're feeling sick to determine whether or not your oxygen saturation levels warrant a visit to the hospital or emergency room.With a wide assortment of models available, you can find the right unit for your needs at CVS. We offer a range of pulse oximeters, and you can sort them by looking at the price range, brand name, and more to find the right one for your individual needs.
How To Use Pulse Oximeter
These unique devices are used to help measure the oxygen level in your blood, and it can determine how well the oxygen is being sent to the parts of your body that are furthest from your heart like the arms and legs. The device is typically considered painless and easy to use. New models have digital, easy-to-read screens that can allow you to quickly and accurately measure your blood's oxygen level. These meters can help to determine how well certain medications are working, whether or not a patient should participate in physical activity, and to help healthcare personnel determine if additional medical interventions are needed for a patient.. They can also be used in aviation for pilots to ensure blood oxygen remains at a safe level.
How Does A Pulse Oximeter Work?
A device called a probe is clipped to your body, typically on your fingertip or maybe an earlobe. The probe helps measure oxygen levels in the blood by using a pulse of light. Some models will even read the numbers aloud for those who have difficulty seeing the screen. Once you place your finger into the probe, a button is pressed, and the unit begins reading your oxygen levels. In most cases, you'll hear a beep that indicates the meter has completed the process. Some models will also read your pulse, which can be especially helpful for those participating in sports-related activities.
What Does A Pulse Oximeter Measure?
In a doctor's office or clinic, a pulse oximeter can be beneficial in determining a variety of potential diseases and health problems. Some of these include possible heart failure or heart attack, lung cancer, anemia, COPD, asthma, and even pneumonia. When used at home, they can be a good way to monitor your blood oxygen levels in the event that you may need to see your doctor for further testing or treatment. In some cases, the pulse oximeter may need to stay on your finger or earlobe for a prolonged period of time so doctors can observe you for more consistent, long-term monitoring.
How To Read A Pulse Oximeter
Pulse oximeters have a small digital screen that indicates the values of blood oxygen saturation levels represented as a percentage. This percentage is usually shown as SpO2. When you use the device, it will produce a numeric reading that indicates whether your blood oxygen levels are safe and normal, or if they indicate a reason for concern. The pulse rate is also displayed on the screen and shows your current heart rate. Ideally, a healthy oxygen saturation level should be between 95 and 100% in order to be considered normal. If it drops to under 95%, you may need to seek medical attention immediately. The heartrate number should read between 60 and 100, which is generally a normal, healthy range.
What Are The 2 Readings On A Pulse Oximeter?
There are two different readings represented on a pulse oximeter, including:
• SPO2: this represents your body's blood oxygen saturation levels. It shows what percentage of blood is saturated by oxygen. The SPO2 reading estimates how much oxygen is being carried through the body by red blood cells.
• Pulse Rate: The pulse rate is simply your current heart rate, or how many times your heart is beating per minute. Numbers that are extremely high (anything over 100) or extremely low (anything lower than 60) should be reported to a healthcare professional immediately.
Once you learn how to use and read your pulse oximeter, it can be a very valuable tool to help you evaluate your health, and it may even save your life.
What Finger Is Best For Pulse Oximeter?
To use a pulse oximeter to check oxygen levels, the correct method must be used to get a proper reading. 
Make sure the hands are not cold. If they are, the hands should be rubbed together to warm them.

If there is any nail polish on the fingernails it should be removed, as nail polish can interfere with the reading.

Make sure the individual takes a 5-minute rest before taking the measurement.

The pulse oximeter should be turned on and placed on the index finger or the middle finger.
The fingers are used to get the oxygen level because it is a great place to place the probe and get a quick accurate reading.
Who Should Use a Finger Pulse Oximeter?
The pulse oximeter is used to see if there is enough oxygen in the blood. Therefore, this data can be used in many different situations that include:
During or after surgery that uses sedation

How well lung treatments are working

To check a person's ability to handle increased activity

Those who have Covid symptoms such as a cough, fever, and shortness of breath
Doctors and individuals can use a finger pulse oximeter to check oxygen levels in the blood. It is a quick at-home way to get the oxygen saturation levels along with heart rate.