Los miembros de CarePass
TM
Mostrando 1-20 de
345 productos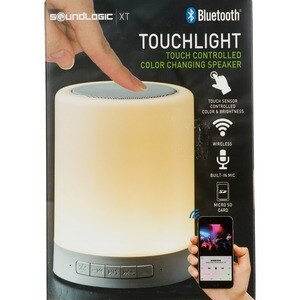 SoundLogic XT Touchlight - Altavoz Bluetooth con luz táctil que cambia de color
SoundLogic
o
en pedidos de $35 o más.
Los precios en línea puede ser diferentes a los precios en tiendas.
Electrónica
Your daily life involves more noise and sounds than ever before. From traffic outside your window to noisy air conditioning units to the ringing of a telephone, your ears are being treated to a symphony of life.
Start your day off right by employing a home audio device, so you can wake up in the way that works for you. Whether that is being startled awake by blaring beeps that shake your whole bed or gently woken by a natural alarm clock featuring light and nature sounds, presenting your ears and brain with the sounds it needs leads to a vibrant and energized day.
After your alarm clock wakes you up, you probably have to deal with a lot of sounds that you might not want to hear, such as traffic noise or your neighbors yelling. Your coworker in the next cubicle munching on their mid-morning snack too loudly. These sounds don't bring out your best and most productive side.
You should invest in a good Bluetooth speaker for those times when you need to tune in to something more peaceful than cars honking or coworkers gossiping. With many Bluetooth speakers being portable, you can take it wherever you might need it. That might be as simple as moving it around the rooms in your house, or you could transport it between both home and work.
Bluetooth speakers are also ideal for taking on a vacation. Whether you want to listen to your favorite playlists in a hotel room or enjoy some classic tunes out on the beach, a Bluetooth speaker can do the job. Instead of worrying about the sounds of the outside world, allow yourself to be fully immersed in something more tranquil. With so many options for connection between USB ports and Bluetooth, it is easy to connect your favorite electronic devices to a portable speaker. It is easy to get frustrated by the noises of everyday life, so take control and listen instead to what makes you happy.
Chargers
Whether you need to provide power to your laptop, digital camera, tablet, or smartphone, chargers make it easy to keep all of your important devices ready to go. At CVS Pharmacy, you'll find a range of chargers to suit your needs from several of the country's most well-known brands. Whether it's a USB charger for your phone or something for your tablet, it's important to have the right charger for each device you own. Look for compact chargers that you can take with you anywhere for easy travel. Plug a USB charger into a USB outlet for lightning-fast charging of all your must-haves whenever you're on the go or at home.
Phone Chargers
From an Android to an iPhone, having several phone chargers around will ensure that your phone is consistently powered up. Losing charge on your phone can be stressful, especially if you're away from home or waiting for an important phone call. Always verify that your phone charger matches the make and model of the phone you currently have to ensure a perfect fit. Phone chargers also come in several different lengths, typically ranging from about three feet to up to 10 feet or more. The longer the charger cord, the longer your reach. Shorter charging cords are best if you just need to keep your phone charged by your bed or on a desk. Whatever type of phone charger you need, it's always a good idea to stock up so that you have access to a charger anywhere you go.
Cámaras desechables
If you need a fun, quick, and easy way to snap some photos, disposable cameras are a perfect choice. These cameras still use film and are essentially a self-contained roll of film that you can turn in to be developed once the film roll is full. Disposable cameras are a great choice for weddings and graduations. Place a disposable camera or two on every table at your wedding reception, encourage your guests to take lots of pictures, then have a blast when you go to get them all developed. These lightweight, compact cameras are affordable and very easy to use, making them a great choice for kids who are just learning how to take pictures on their own, too. Use them to encourage your friends to take part in a fun photography challenge, give them as gifts, or take them with you whenever you travel.
Búsquedas relacionadas
Baterías, Flash drives, Phone cases, Portable charger, last minute christmas gifts for him, last minute tech gifts
What are the Best Electronics Brands?
What Are The Best Battery Brands?
When choosing batteries, rechargeable batteries can be a cost-effective option for your electronic items. It is important to decide what battery type and battery size you need. For both AA rechargeable batteries and AAA rechargeable batteries, Energizer and Panasonic offer long-lasting battery life. When it comes to a battery charger, Nitecore D4 Charger offers a great overall option, while the Panasonic Cell Battery Charger Pack offers quality power-up use for your rechargeable AA and AAA batteries.
What Are The Different Types Of Batteries?
Battery types vary depending on your product's requirements, but there are three main types used in your everyday electronic items. These include alkaline batteries, nickel metal hydride (NIMH), and lithium-ion. Alkaline batteries are the cheapest option of the three and are single-use and disposable. A downside to these batteries is that they are hard to recycle. NIMH batteries are rechargeable, and each battery can get about 500 charges. Lithium-ion batteries, also known as Li-ion batteries, are rechargeable and found in many common electronic items, including cell phones. Their battery life is quite long, and many Li-ion batteries can be charged hundreds of times before they are done. While Li-ion batteries are the most expensive, they recharge in just a couple of hours, and they are more lightweight than either of the other two types of batteries.