Clinical Strength Antiperspirant
Los miembros de CarePass
TM
Mostrando 1-14 de
14 productos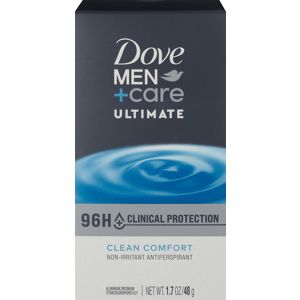 Dove Men+Care Clean Comfort - Desodorante y antitranspirante sólido para hombres, protección contra el sudor y el mal olor, Clinical Strength, 1.7 oz
Dove
Compre 1, lleve 1 al 50% - ¡Agregue 2 o más para recibir la oferta!
o
en pedidos de $35 o más.
Los precios en línea puede ser diferentes a los precios en tiendas.
Clinical Strength Deodorant
Clinical strength deodorant is for anyone who sweats more than they are comfortable with. If you live a very active lifestyle or just feel like you sweat a lot, clinical deodorant may be able to help. Like many deodorant products, clinical strength deodorant is actually a combination of a deodorant and an antiperspirant. While they are often combined in one product, it's often still helpful to know the difference between the two. Basically, a deodorant contains ingredients that help stop your sweat from smelling bad, but it won't stop you from sweating in the first place or do much to prevent underarm wetness. Conversely, antiperspirant contains aluminum compounds to stop your underarms from sweating but doesn't directly provide protection against odor. For anyone looking to avoid aluminum, be cautious when shopping for a clinical strength deodorant, as most also offer antiperspirant protection and are formulated with aluminum. If using an aluminum free deodorant is important to you, check out our curated selection of natural deodorants!
Clinical Strength Antiperspirant
Clinical strength deodorant and antiperspirant works similarly to regular deodorant and antiperspirant. Once you apply your chosen product, small particles will sink into your skin to block sweat glands, helping you stay dry and fresh. Additionally, odor-blocking ingredients and added fragrance will work to prevent and cover up any remaining unpleasant underarm smells. Most brands recommend applying clinical strength deodorant each night before bed. This is because your body at rest is more receptive to absorbing the formula, allowing a thick layer of odor and wetness blocking protection to build up for the day ahead.
Best Clinical Strength Antiperspirant
Clinical strength deodorant is available for both men and women. Most clinical strength antiperspirants come in either solid stick or gel form. These are easy to apply but may leave white residue or wet spots on your clothing if you don't wait a few moments between application and getting dressed. When selecting a clinical strength deodorant, you should consider the same factors that you would if you were picking out a regular deodorant:
What scents do you like? Clinical strength antiperspirant comes in a variety of scents ranging from powdery fresh and clean to feminine and floral. Clinical strength deodorant for men is available in subtler scents from top brands such as Dove Men+Care Clinical Protection. In addition to scent, it is important to consider any other special preferences or needs you may have. Is your skin prone to sensitivity or irritation? Choosing a product that is formulated with moisturizing ingredients, such as Dove Clinical Protection may help. You can also try a product that's made without fragrance and is formulated specifically for sensitive skin, like Secret Clinical Strength Smooth Solid. No matter which product you choose, remember that the best clinical strength deodorant is the one that leaves you feeling dry, odor free, and confident enough to face any situation!
Does CVS Sell Clinical Strength Deodorant?
Yes, CVS sells a variety of Clinical Strength Deodorants in stores and online.
What Are Clinical Grade Deodorants?
Clinical grade deodorants feature powerful, strong ingredients that are formulated to combat excess wetness and odor of the underarms. These products typically contain aluminum that stops and neutralizes sweat by targeting the sweat gland. These products are the strongest form of deodorant you can get without a prescription. Degree Men Clinical Antiperspirant and Deodorant provides exceptional sweat protection and prevents odors thanks to a powerful formula that targets wetness and odor all day.
What Makes a Deodorant Clinical Strength?
Clinical strength deodorant contains stronger wetness protection but less irritation than you may experience with a prescription product. Look for a clinical strength deodorant that contains ingredients like aluminum chloride and aluminum zirconium, which you'll find in Secret Clinical Strength products. These deodorants feature stronger ingredients formulated to help reduce sweat production and provide better odor and sweat protection than you'll find in ordinary antiperspirant and deodorant products.
How to Use Clinical Strength Antiperspirant
You can use clinical strength antiperspirant just like you'd use ordinary deodorant. However, for best results, apply it at bedtime and then re-apply it in the morning after you take a shower. Use a light layer and continue to use it each night before you go to bed to help reduce sweat production. You can add more clinical strength antiperspirant to the underarm area as needed depending on how much you sweat or how much wetness and odor protection you need.
Does CVS Deliver Clinical Strength Deodorant?
Yes, CVS offers free fast shipping on Clinical Strength Deodorant orders over $35. Most orders are delivered within 1-4 days.
Is Clinical Strength Deodorant Available For Same Day Pickup?
Clinical Strength Deodorant are available for same day pickup at most locations, check your local stores availability and add to cart to pick up today.