Six Star Elite X3 Creatine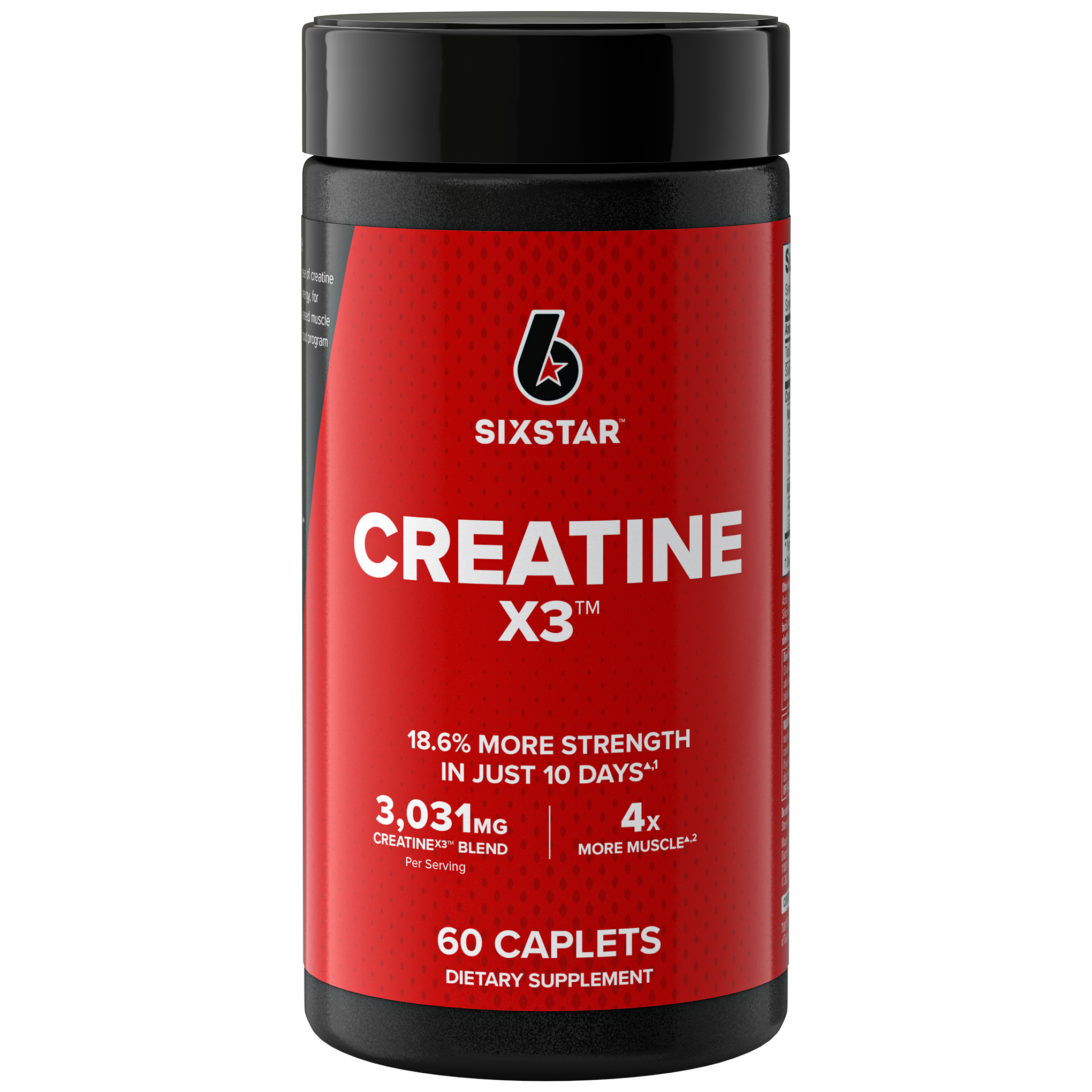 Six Star Elite X3 Creatine
4.08 oz, .34 lb. N.º de artículo 870732
POST-WORKOUT RECOVERY YOUR MUSCLES ARE CRAVING FORIn order to break your personal fitness records, you want to crush your hardest workouts and recover smoothly afterwards. This requires the right kind of fuel to keep you going. The primary source of energy your body uses during high-intensity workouts is the molecule called ATP (adenosine triphosphate). In order to release the energy, ATP breaks down into ADP (adenosine diphosphate). The creatine powder in Six Star® CreatineX3 helps you replenish your energy stores by transforming ADP back into ATP and, this way, accelerating your muscle recovery. While theres no need to cycle creatine, when used continuously, it saturates your muscles, improving your between-set recovery and enabling you to train harder, for longer periods of time.Six Star® CreatineX3 delivers creatine together with specialized, fast-absorbing carbs. Carbs are known as the quickest source of energy, which rapidly replenishes glycogen (a form of energy reserve in your body) to be readily available for future workouts. But, thats not the only value that carbs bring to the table. The carbohydrates also spike your blood insulin levels. Why is it important? Insulin helps shuttle creatine to the muscle where its needed most. Six Star® CreatineX3 takes a multipronged approach to ensure you are ready to hit the weights, no matter what.TRANSFORM YOUR ATHLETIC PERFORMANCE WITH SIX STAR CREATINEX3.Six Star® CreatineX3 is a powerful supplement for athletes who aim to perform beyond ordinary. Every serving delivers an impressive 8,000mg dose of a premium creatine blend, featuring creatine monohydrate and creatine HCl. Plus, you will find 2,500mg of free-form BCAAs and taurine in every scoop to help boost nitrogen levels.THE RESEARCH SPEAKS FOR ITSELF.18.6% MORE STRENGTHIn one study, conducted at Ohio State University on 31 weight-trained participants, those who supplemented with the same form of creatine as in Six Star® CreatineX3, coupled with a training program, increased their strength capacity by 18.6% compared to baseline (6,658 vs. 5,613 joules) in 10 days. The strength progress was measured on the bench press using 70% of the subjects 1-rep max. A 6-week study conducted at a leading university revealed that subjects using the same creatine combined with juice gained more lean muscle (5.9 lbs.) than subjects using a placebo (only 0.4 lbs.).4X THE MUSCLEThe second study took place over the course of 12 weeks and involved 22 untrained participants. Those consuming the creatine in Six Star® CreatineX3 and taking part in the training program gained over 4 times more lean muscle, compared to participants who were taking a placebo. Thats 7.12 lbs. vs. 1.30 lbs.!
CONFIABILIDAD COMPROBADA
Requerimos que todas las vitaminas y suplementos estén probados por terceros para ayudar a garantizar que contengan los ingredientes dietarios que se detallan. Para obtener más información, visite cvs.com/tested-trusted.
Ingredientes
Key Ingredients: Muscle Building Matrix (Creatine Monohydrate, Creatine Phosphate, Creatine Pyruvate), Alpha Lipoic Acid, L-Carnosine, Ingredients: Microcrystalline Cellulose, Coating (Polyethylene Glycol, FD&C Blue No. 2 Lake, Talc, FD&C Yellow No. 6 Lake, FD&C Red No. 40 Lake, Hydroxypropyl Cellulose, Titanium Dioxide, Soy Lecithin, Polysorbate 80), Croscarmellose Sodium, Stearic Acid, Silicon Dioxide, Magnesium Stearate, Acesulfame-Potassium. Contains soy ingredients.
Tamaño de la porción:
3 cápsulas
Porciones por recipiente:
20
Nutrientes
Cantidad por porción
Valor diario en %
Take 2 servings (6 caplets) per day. On workout days, take 1 serving (3 caplets) in the morning and 1 serving (3 caplets) post-workout. Maintain an adequate state of hydration during use.
Advertencias
For adult use only. Do not use if pregnant or nursing. Consult a medical doctor if you have a medical condition or before starting any diet or exercise program. If you experience a skin rash or any other allergic reaction, discontinue use and consult a medical doctor. MANTENER FUERA DEL ALCANCE DE LOS NIÑOS.
*Customer reviews and ratings solely reflect the views and opinions of the individual contributors and are not created or endorsed by CVS Pharmacy. Please review the product labeling and consult with your doctor with any health or medical questions.