Mostrando 1-11 de
11 productos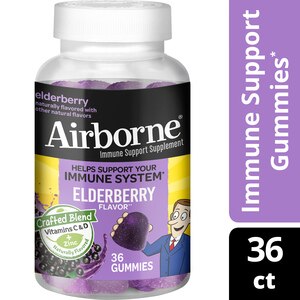 Airborne Immune Support Supplement Vitamins C & D + Zinc, Elderberry Gummies
Airborne
Los miembros de CarePass
TM
Airborne Plus Probiotic, Immune Support Gummies, Assorted Fruit Flavors
Airborne
Los miembros de CarePass
TM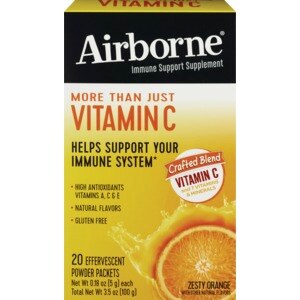 AIRBORNE On-The-Go CTs - Zesty Orange 12/20 CT
Airborne
Los miembros de CarePass
TM
Limit 2 per order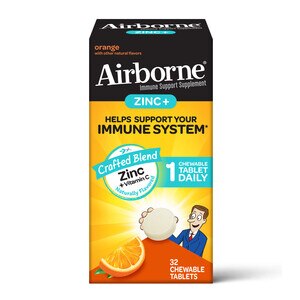 Airborne - Suplemento de ayuda para el sistema inmunológico con cinc y vitamina C en tabletas masticables, 32 u.
Airborne
Los miembros de CarePass
TM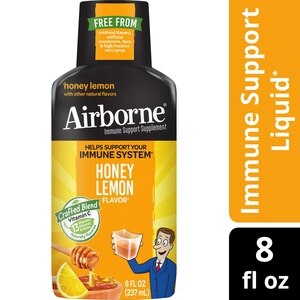 Airborne Honey Lemon Liquid - Vitamin C D E, Zinc & Immune Supplement, 8 OZ
Airborne
Los miembros de CarePass
TM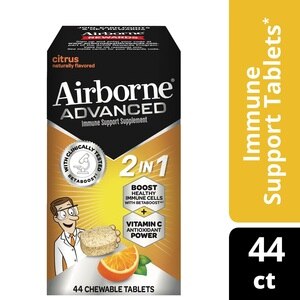 Airborne Advanced Vitamin C Citrus Chewable Tablets Immune Supplement, 44 CT
Airborne
Los miembros de CarePass
TM
Los precios en línea puede ser diferentes a los precios en tiendas.
What Is Airborne?
Airborne is a chewable or effervescent tablet that may help to boost your immune system naturally*. This dietary supplement contains several vitamins, herbs, and nutrients including vitamin C and echinacea which may help to shorten the length of time you suffer from things like the common cold. When taken as directed, it may help support a strong immune system*. It's important to note that Airborne cannot prevent nor treat the common cold.
What Does Airborne
®

Do?

When you drop an original Airborne® effervescent tablet in water, you'll get a formidable blast of vitamin C plus 13 additional vitamins, minerals, and herbs. You'll get a similar boost of immune system support from Airborne chewable tablets and fruit-flavored gummies. Antioxidant vitamins like vitamin C and zinc also help protect your body from the potentially detrimental effects of free-radical damage. With so many Airborne® products to choose from, it's easy to find just the right supplement to suit your lifestyle.
How To Take Airborne Tablets
To take Airborne effervescent tablets, drop one tablet into four to six ounces of water and let it dissolve, then drink it in one serving. For chewable tablets, simply chew and eat the recommended amount as indicated per the product packaging dosing instructions.
How Many Airborne Tablets Should I Take?
Adults and children over the age of 13 may take one tablet every three to four hours as needed up to two times per day. For children between the ages of 12 and 13, no more than one tablet of Airborne per day should be consumed.
How Long Does It Take For Airborne To Work?
You may need to take several Airborne tablets before it begins to work. How fast it works depends on how soon you take it after the first sign of a cold, or if you're taking it to boost your immune system. Some people may need to take Airborne for at least one week before they see or feel any results. Remember to follow other important practices when you have a cold such as getting enough rest, staying hydrated and washing your hands frequently. *This statement has not been evaluated by the Food and Drug Administration. Este producto no está hecho para diagnosticar, tratar, curar ni prevenir ninguna enfermedad.
What Is In Airborne
®

?

All Airborne® products are crafted with a blend of vitamin C, as well as other vitamins, minerals, and herbs. Airborne® Orange Effervescent Original Tablets make a delicious fizzy drink that gives you an immune system-boosting blast of vitamins C, A, and E. You'll also get 350mg of the brand's proprietary herbal blend that includes echinacea, an immune system stimulant with anti-viral and anti-microbial properties. The fizzy formulation is believed to help promote rapid absorption.

Airborne® effervescent tablets also contain maltodextrin, sorbitol, sodium bicarbonate, citric acid, mineral oil, and sucralose, a zero-calorie artificial sweetener. If you're looking for immune system support on the go, try Airborne® chewable tablets or fruit-flavored gummies. When you choose Airborne® Assorted Fruit Flavored Gummies, you'll get an ample supply of vitamins A, E, and C, as well as magnesium and selenium.

Like other Airborne® products, Airborne® gummies are also a great source of zinc and ginger root. Each serving has 45 calories, only 7 grams of added sugar, and 1 gram of protein. Airborne® gummies are intended for adults and children 12 years and older. They are not meant for younger children because of the risk of choking. For a blast of probiotics to help promote immune system function, try Airborne® Plus Probiotic Gummies.