Take care of your hair by addressing its unique needs with Kerastase!
Cómo conseguirlo
Recogida no disponible
Cambiar tienda
Mostrando 1-5 de
5 productos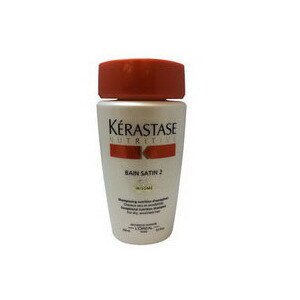 Kerastase Nutritive Bain Satin 2 - Champú, 8.5 oz
Kerastase
Envío gratis con pedidos de $35 o más
Los precios en línea puede ser diferentes a los precios en tiendas.
What Is Kerastase?
Kerastase is a line of targeted hair care products designed to address your unique needs and bring out your best hair. Kerastase offers a full range of hair care products, including shampoos, serums, and hair masks - all tailored to your hair's needs.
How To Use Kerastase
Kerastase recommends a 3-step hair care system: cleanse, treat, and prime. The first step is intended to clean your hair and helps stimulate your scalp. The second step helps to condition your hair and deliver ingredients to help treat your specific hair woes, as well as build up your hair's strength and shine. The third step is designed to prime your hair for styling and help protect it from damage caused by styling tools. If you aren't sure which products to choose, don't hesitate to ask your stylist. For directions on using a specific product, you should refer to the instructions printed on the product packaging.
Which Kerastase Shampoo Should I Use?
Different Kerastase products are designed for different types of hair. For example, if you have fine hair, you'll want to select a Keratase shampoo designed for fine hair. The same goes for serums and masks. If you're not sure what Keratase product to choose, don't be afraid to ask your hair stylist for a recommendation.
Where To Buy Kerastase
You can buy Kerastase at most CVS stores. Kerastase products are also available for purchase from CVS online. Keep in mind that some products may be available only in select stores or online.
Does CVS Carry Kerastase Products?
Yes, CVS sells a variety of Kerastase products in stores and online.
Are Kerastase Products Available for Same Day Pick Up?
Select Kerastase products are available for same day pick up at most locations. Check your local stores for availability and add to cart to pick up today.
Does CVS Deliver Kerastase Products?
Yes, CVS delivers Kerastase products to your home. Delivery is always free over $35, or join CarePass to enjoy free shipping on a variety of items.
How To Save On Kerastase Products?
Join CarePass today to save on Kerastase products. Enjoy great offers and deals when you sign up. Check the weekly deals and download the CVS App today for exclusive coupons!