Los miembros de CarePass
TM
Mostrando 1-4 de
4 productos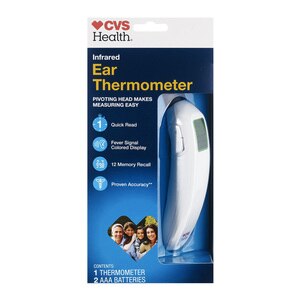 CVS Health Infrared Ear Thermometer
CVS Health
Precio con CarePass
™
$35.99
Envío gratis con pedidos de $35 o más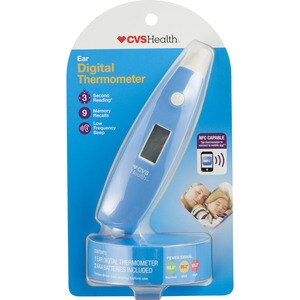 CVS Health - Termómetro digital para el oído
CVS Health
Precio con CarePass
™
$28.63
Compre 1, lleve 1 al 50% - ¡Agregue 2 o más para recibir la oferta!
o
en pedidos de $35 o más.
Los precios en línea puede ser diferentes a los precios en tiendas.
Ear Thermometers
Having an easy-to-use and accurate medical thermometer in your home or office can be immensely helpful. An ear thermometer will enable you to find out if someone has a fever so their care can be immediately administered. If you are looking for ear thermometers, CVS has a wide selection for you to choose from. When it comes to thermometers, there are tons of options to select from, and ultimately, your choice would depend on your personal preference. A lot of people prefer ear thermometers because they are very easy to use.
How to Use Ear Thermometer?
The first step in using an ear thermometer is to check your ears to ensure that the area is clean. It is important to note that an ear thermometer should not be used if you have wax buildup in your ears since this could lead to inaccurate readings. To obtain an accurate reading, you must have clean ears. This could be achieved by using products that soften ear wax. After making sure that your ear is clean, you are finally ready to sanitize the tip of your ear thermometer. Some devices come with disposable sterile tips, so the chances of spreading infections are reduced. The third step is to adjust your ear position. The thermometer must create a seal so it can bounce an infrared signal in your eardrum. It doesn't have to be deep enough to touch the eardrum, but the ear canal must be as straight as possible. To do this, pull back gently on the ear if the person is a child, or pull the ear up or back if the person is an adult. Finally, you're ready to do a temperature reading. Most ear thermometers require you to hold it in place until the light flashes or until you hear a beeping sound. Many thermometers have a memory feature so you can store the temperature. Make sure not to put your ear thermometer into your mouth. Otherwise, it would not give a correct reading because it's not calibrated for this area.
How Accurate Is an Ear Thermometer?
Accurate temperature readings can be made using an ear thermometer. However, since the normal temperature in the ear varies compared to other parts of the body, you must know about the potential variance. The normal ear temperature ranges from 99.1°F to 98.6°F. Want to shop for an ear thermometer but not sure which brand to get? Let our trained staff at CVS Pharmacy® assist you.