Body Lotion With Magnesium
Mostrando 1-2 de
2 productos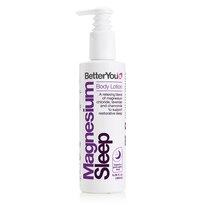 Los precios en línea puede ser diferentes a los precios en tiendas.
Body Lotion With Magnesium 
Applying a body lotion with magnesium before bedtime not only helps moisturize and soften your skin, but it may relax tired muscles and help you sleep better. 
What are the Best Body Lotion With Magnesium Brands?
How Does Body Lotion With Magnesium Work?
The skin has the ability to absorb chemicals it comes into contact with. Topical magnesium that enters the body through the application of magnesium oil, spray or body lotion is also known as transdermal magnesium. Research into the effects of transdermal magnesium is ongoing, but some studies have indicated that magnesium applied to the skin may have a soothing effect on muscles.
If you're suffering from sore joints, aches and pains caused by inflammation, muscle soreness from exercise or tired muscles after a long day, applying a body lotion with magnesium may be an effective way to deliver the mineral straight to the affected areas, so it can get to work more quickly. 
Applied before bedtime, magnesium lotion, such as BetterYou Magnesium Sleep body lotion, may soothe and relax your muscles, helping you drift off more quickly and experience more restful sleep. El Better You kids' formula is pediatrician-approved to support better sleep for your little ones. 
Does Body Lotion With Magnesium Help With Swelling?
Swollen feet and ankles can be caused by a variety of factors, such as: 
Inactivity or being overweight 

Medical conditions that affect the circulatory system 

Lesiones

Shoes that don't fit properly 
Water retention and swelling can also be an indication of a magnesium deficiency. If this is the case, supplementing with magnesium and using lotions that contain the mineral may help with swelling. Pregnancy can also bring on swelling and a host of other complaints, such as high blood pressure and cramping. Applying a magnesium body lotion during pregnancy may benefit blood pressure and help alleviate cramps and swelling.
Where Can You Buy Body Lotion With Magnesium?
Whether you're looking for a magnesium body lotion to help you sleep, supplement your magnesium intake, soothe tired muscles or address inflammation, CVS carries products that may help. Visit your local CVS store, or shop online from the convenience of home.