Face Scrub With Salicylic Acid
Mostrando 1-1 de
1 productos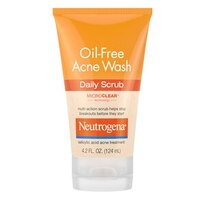 Los precios en línea puede ser diferentes a los precios en tiendas.
What are the Best Face Scrub With Salicylic Acid Brands?
Why Use Face Scrub With Salicylic Acid? 
Banish breakouts by using face scrub with salicylic acid. This ingredient is included in skin care products for its anti-inflammatory effects and potential ability to reduce and prevent acne.
When to Use a Face Scrub With Salicylic Acid in Your Skin Care Routine
An exfoliating face wash with salicylic acid can be used to cleanse skin of impurities while removing dead skin cells. The salicylic acid in the facial scrub treats pimples and may help prevent new ones from forming. Refer to package instructions to determine how often to use a facial scrub. Some formulas are gentle enough for daily use while others should only be used periodically.
If you're using a scrub every few days or once a week, consider using a foaming face wash with salicylic acid on the other days. One option is Neutrogena Deep Clean face cleanser with salicylic acid, which you can alternate with a scrub from the same brand for a complementary effect. For example, you could use a foaming limpiador 5 days a week and an exfoliating scrub twice weekly, although it all depends on your skin care needs. 
Are Face Scrubs With Salicylic Acid Good for Your Skin?
Topical products with salicylic acid are touted as effective acne-fighters, but some people may experience dryness or irritation. You can discontinue the product or use it less frequently to allow your skin to adjust. Visit a CVS MinuteClinic or schedule a virtual visit for prompt care if you experience signs of skin sensitivities or allergies when using any product.
Where to Buy Face Scrubs With Salicylic Acid
CVS has a range of salicylic-enriched skin care products. When shopping for a face scrub with salicylic acid, you'll find products from multiple brands. In addition to Neutrogena's line of salicylic products, CVS Health has face wash and scrub containing this ingredient.
Follow your cleansing routine with a salicylic acne toner, cream or gel for a more powerful acne-fighting effect. The same brands that offer face scrubs with this ingredient may also have other blemish-busters in other formulas, so you can use products from the same line. Acne pads - such as Oxy Advanced Care - are an easily packable option you can take to work, school or the gym to freshen skin and fight pimples with no rinsing required.