Los miembros de CarePass
TM
Mostrando 1-12 de
12 productos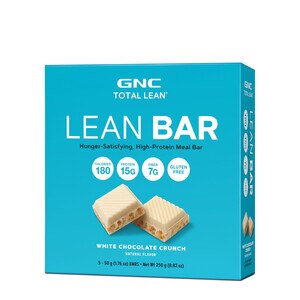 Total Lean Bar White Chocolate, 1.76 OZ
GNC
Envío gratis con pedidos de $35 o más
Los precios en línea puede ser diferentes a los precios en tiendas.
Best Weight Loss Bars
Weight loss bars are designed to deliver quality nutrition and taste without all of the calories. Meal replacement bars provide enough calories and nutrition to keep you feeling satisfied, and you don't have to worry about overindulging, since the meal is already portioned and packaged for you! Healthy snack bars are created with taste in mind, but are carefully formulated to be low in calories. Low carb, low sugar, and low fat protein bars are a good choice for a filling snack. If you're craving a treat, diet bars can be a great way to indulge your sweet tooth while still staying on track for your weight loss goals! CVS carries a selection of healthy protein bars, including Atkins bars.
Protein Bars for Weight Loss
If you want to lose weight, protein bars for weight loss can be an excellent addition to your daily regimen. These bars typically feature a high amount of protein to keep you fuller while boosting muscle mass and strength. The key is to choose protein bars for weight loss that are low in sugar and calories but high in nutrient density to get the most benefits. You can pack a protein bar in your lunchbox, eat them as a meal replacement, or enjoy one instead of a sweet unhealthy dessert. Just remember that protein bars for weight loss are just one part of a healthy diet plan. You'll still need to get nutrients from natural sources like fruit, vegetables, and whole grains. Protein can come from a snack bar, but it's also good to get some from red meat, poultry, or fish as well as other natural sources, too. However, eating protein bars for weight loss can be a very helpful tool that can make losing weight easier.
Best Snack Bars for Weight Loss
It can be a bit overwhelming when you're trying to find the best snack bars for weight loss. Whether you want to build muscle, stay fuller for longer, or cut out the amount of sugar you eat, always choose healthy snack bars that have at least between six to 12 grams of protein. Read the ingredients and nutrition label carefully to ensure that you're choosing the best snack bars for weight loss. Anything with three grams of fiber or more is also a good choice. More fiber will make the bar more filling and will also help to slow down the release of insulin into the bloodstream. Choose a snack bar that is made with natural, whole ingredients like fruit and nuts. Try to avoid bars that are high in calories. The best snack bars for weight loss should be somewhere between 180 and 250 whenever possible. You should also make sure that the sugar content is low, coming in at about 12 grams or less. The lower the sugar, the healthier the snack bar should be. Keep in mind that snack bars are meant to help satisfy your cravings in between meals or when you want something crunchy or sweet. They should not completely replace your meals, and you should supplement your diet with whole foods like fruits and vegetables, too.
How do Weight Loss Bars Work?
Weight loss bars work by helping to satisfy your cravings while still keeping your nutrition balanced. In most cases, this means providing you with a good source of healthy protein while keeping the amount of sugar and calories to a minimum. Many weight loss bars are designed specifically to satisfy the craving for sweet food. This is often done using artificial sweeteners that taste great but do not contain the calories or carbs that can make it difficult to lose weight.
What is in Weight Loss Bars?
The ingredients in weight loss bars will vary dramatically depending on what type you get. In most cases, you will find that they have some main source of healthy protein. Depending on the bar, you may get this from soy, dairy, or nuts. All of these are able to give you the protein you need to satisfy your hunger as well as a number of other important nutrients. Most weight loss bars will also have some ingredients to help satisfy your craving for something sweet. This will typically be some type of artificial sweetener, though it may be combined with naturally sweet things like coconut or lemon. Trying several different types of weight loss bars will help you to find the ones that work best for you.
Búsquedas relacionadas
best snack bars, low calorie protein bars, gluten free protein bars, best meal replacement shakes, vegan protein bars