Mostrando 1-8 de
8 productos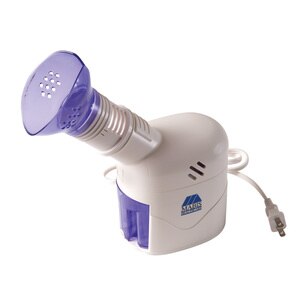 Mabis - Vaporizador/inhalador de vapor personal 5-1/8 x 3-3/4 x 10"
Mabis
Envío gratis con pedidos de $35 o más
Los precios en línea puede ser diferentes a los precios en tiendas.
Asthma Medications
Asthma is a serious health condition that requires monitoring and treatment from a doctor. You should work closely with your healthcare provider to develop a treatment plan that works for you and that you are comfortable with. Be sure to schedule regular check-ins with your doctor and reach out if anything about your asthma changes. Most asthmatics require prescription medication, such as a prescription inhaler, to safely and adequately control the condition. However, over the counter products can sometimes help address certain symptoms associated with asthma. Just keep in mind that over the counter asthma treatment is only complementary to prescription options and treatment from your doctor - it should never replace prescription medication prescribed by your doctor.
Over The Counter Inhaler
Over the counter inhalers, such as Primatene Mist, are available without a prescription. However, it is important to understand that an OTC inhaler is not a replacement for a prescription inhaler. While there may be instances in which using an over the counter asthma inhaler is appropriate, you should talk to your doctor before trying one. In most cases, asthmatics will need to use a prescription inhaler as directed by a doctor. Asthma is a serious condition that can be life threatening, so it is important to always follow your doctor's instructions exactly. Never stop or start taking any type of asthma medication without first consulting your doctor. If you are having frequent asthma attacks, talk to your healthcare provider to right away. He or she will discuss your condition with you and help you find ways to better control your symptoms.
Nebulizer Machine
A nebulizer is a machine that allows you to aerosolize liquid asthma medication so that it can be inhaled directly into your lungs as a mist. Nebulizadores may be a good choice for those who have difficulty using inhalers, such as small children and the elderly. If you and your doctor agree that a nebulizer machine is right for you, you may wish to purchase one for home use. Nebulizers are often covered by insurance and/or FSA eligible, but you should always check with your provider before purchasing to ensure coverage and eligibility. While nebulizers are available for purchase over the counter, keep in mind that you may need a prescription from your doctor in order to be eligible to use your FSA or insurance benefits. Your doctor can help you understand which type of nebulizer to purchase. There are two main types of nebulizers available. A tabletop nebulizer is large and designed for home use only, while a portable nebulizer can be taken with you wherever you go and often comes with a carryall bag that houses all the equipment you will need to use your nebulizer.
Steam Inhaler
A steam inhaler is an over the counter product that can sometimes be beneficial for asthma suffers. Nasal congestion and airway irritation are both associated with asthma. Because steam inhalers warm and add moisture to the air, asthmatics may find some relief from these symptoms, making breathing feel more comfortable. While a steam inhaler may help address nasal stuffiness or irritation, it is important to understand that a steam inhaler is not a substitute for your asthma inhaler. Steam inhalers can help make breathing more comfortable when you're feeling stuffed up, but they won't help you breathe during an asthma attack, so always be sure to have your inhaler on hand and use it as directed by your doctor. In addition, be sure to only use pure or distilled water in your steam inhaler and clean the unit thoroughly each time you use it in order to reduce the chance of mold and other asthma triggers being released into the air.
Asthma Prevention
There is no known way to prevent asthma. Treatments and precautions may help to prevent incidents known as asthma attacks, however, which may reduce more severe risks for complications with asthma.
Resuce Inhaler
Rescue inhalers dispense medications known as bronchodilators. These are gaseous medications that help to expand or dilate the airways, making it easier to breathe. A rescue inhaler is used to relieve symptoms of an asthma attack and clear mucus from the lungs. They may be used to prevent asthma symptoms in known trigger situations (such as before going out into cold air or before exercise).
Asthma Care Tips
When it comes to treating asthma, there is no substitute for working closely with your doctor and using your inhaler along with any other medications prescribed to you exactly as directed. However, there are steps you can take to ensure that you aren't making your asthma worse. Keep your living space clean so that asthma triggers like dust mites and mold won't have a chance to grow. Avoid using household products that contain harsh chemicals like bleach or ammonia, which could irritate your airways. Keep the windows closed when you drive your car, especially during high pollen times or in areas with a lot of pollution. You should also practice good self-care and find healthy ways to cope with stress, since stress may worsen asthma symptoms. Your doctor or a therapist can help you create a plan to help you cope with stress more effectively.
What is Asthma?
Asthma is a long-term, or chronic, condition that affects the airways to the lungs. The tubes that carry air in and out of your lungs are the airways. When these become inflamed, they may narrow - this narrowing and inflammation is what is known as asthma.
What are the Symptoms of Asthma?
Asthma symptoms may include any of the following:
• Tightness of chest
• Coughing, especially in early morning, nighttime, or after physical activity
• Falta de aire
• Wheezing, which includes a whistling sound on exhale
• Troubled sleep, due to coughing, wheezing, or other difficulties breathing Certain things can worsen asthma symptoms, such as cold air and exercise. These are known as asthma triggers.
What Causes Asthma?
The cause of asthma varies from person to person. Asthma may be the result of a strong response of the immune system to something foreign being introduced to the lungs, including allergens like dust, mold, ragweed pollen, etc. Asthma may also be caused partly by a viral infection.
How To Treat Asthma
There is no cure for asthma, though there are a number of effective treatments that can reduce symptoms and side effects, as well as prevent more serious responses. The severity of your condition will determine which options are most productive. There are several inhalers that help relieve symptoms when they occur. These inhalers are known as rescue inhalers or reliever inhalers. There are also preventer inhalers, used to prevent the symptoms from occurring. Combination inhalers function to both prevent and treat symptoms when they occur. Other treatments may include oral medications, injections, or surgeries, all of which may be paired with complementary therapies such as breathing exercises, acupuncture, ionizers, chiropractic, homeopathy, and dietary therapies.
Does CVS Sell Over The Counter Inhalers?
Yes, CVS sells a variety of Over The Counter Inhalers in stores and online.
Are Over The Counter Inhalers Available For Same Day Pickup?
Yes Over The Counter Inhalers are available for same day pickup at most locations, check your local stores availability and add to cart to pick up today.
Is There An Age Limit To Purchase Over The Counter Inhalers?
No there is no age limit to purchase Over The Counter Inhalers.
Does CVS Deliver Over The Counter Inhalers?
Yes CVS delivers Over The Counter Inhalers to your home. Delivery is always free over $35, join carepass to enjoy free shipping on a variety of items.
Can Over The Counter Inhalers Be Returned?
Most unopened items like Over The Counter Inhalers in new condition purchased from a CVS Pharmacy® store or on CVS.com® can be returned to any CVS Pharmacy store within 60 days of purchase for exchange or refund subject to the restrictions and requirements of the return policy found here.