Desodorantes en spray para el cuerpo
Los miembros de CarePass
TM
Mostrando 1-20 de
22 productos
Desodorantes en spray para el cuerpo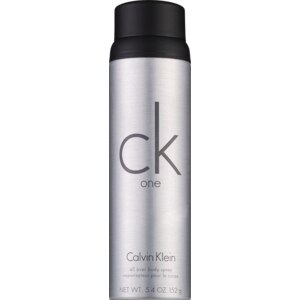 Calvin Klein One - Spray para todo el cuerpo, 5.4 oz
Calvin Klein
o
en pedidos de $35 o más.
Los precios en línea puede ser diferentes a los precios en tiendas.
What are the Best Body Sprays Brands?
Does CVS Sell Body Sprays?
Yes, CVS sells a variety of Body Sprays in stores and online.
Where To Apply Body Spray?
You can apply body spray or body mist to your upper body area including the chest, wrists, and neck. When applying body spray, make sure to hold the bottle at least six to eight inches away from you to avoid saturating your hair and clothing. Spray it on your pulse points, including the inside of your wrists and elbows. Look for a body spray in a fragrance you like. There are many options, including citrus scents, coconut, vanilla, ginger, and spice. Calgon makes a variety of body spray products, including fragrances like ginger, morning glory, and Tahitian orchid. For men, try Axe or Adidas body spray products, available in a variety of scents.
How To Use Body Spray
Body spray is easy to apply; simply hold the can 6 - 8 inches away from your body and push down on the button to spray. For women, it is recommended to spritz the product lightly on the neck and pulse points. For men, spray around the neck and across the chest. A few sprays are all you need - don't go overboard, as too much body spray can be overwhelming to those around you. Also, remember that the contents of body spray can often be flammable, so never apply it while smoking or near an open flame such as a candle.
When using body spray, make sure you do so sparingly. Too much of the spray can be overwhelming, so keep it light and use gentle, sweeping motions when applying the spray. You can apply it after a trip to the gym, after a shower, or any time you want to smell fresh and clean. Keep a bottle with you so you can use it anytime you're on the go. Stick to the pulse points, including the chest, neck, and wrists when using body spray. Try a deodorant body spray to help combat unpleasant odor, like Art of Sport Deodorant Body Spray, to help you feel fresh and clean throughout the day.
Does CVS Deliver Body Sprays?
Yes, CVS offers free fast shipping on Body Spray orders over $35. Most orders are delivered within 1-4 days.
How To Save On Body Sprays from CVS
Join CarePass today to save on Body Spray products. Enjoy great offers and deals when you sign up. Check the weekly deals and download the CVS App today for exclusive coupons!
Desodorante en spray para el cuerpo
Body spray is a great way to ensure that you smell great all day long. The scents in body sprays are typically more noticeable and last longer than fragrances added to deodorants and antiperspirants, but they are not a replacement for these products. Rather, body sprays should be used in addition to deodorants and antiperspirants. In fact, deodorant body spray is designed to help cover up any odors that get through your deodorant stick's defenses! Knowing that you smell great can help boost your confidence and the extra layer of protection may help you worry less about body odor sneaking through your deodorant. Using the ingredient of triethyl citrate, body sprays are able to coat the the body in a long-lasting fragrance, and leave you feeling fresh all day! Shop now!So before you go on that first date or head off to work to give that big presentation for upper management, consider a little body spray.
Types Of Body Spray
Body spray is available in a wide variety of scents for men and women. Ranging from floral feminine scents to woodsy masculine aromas, our selection offers something for everyone! If you enjoy having a signature scent, body sprays can be a boon for your budget. Typically much less expensive than perfume and cologne, body spray makes an affordable alternative that is ideal for everyday use. Without breaking the bank, you can try out different scents until you find a single favorite or choose a few signature scents to rotate throughout the year. For those with sensitive skin, do a skin patch test first and consider only spraying the product on your clothes, not bare skin. Stop use if a rash occurs and never use body spray on broken skin. You'll also want to be very careful not to inhale or spray the product into your eyes when applying.
Body spray for men and women is a very versatile product that you can really make your own. Use it everyday as a signature scent or as a failsafe for your deodorant, or only wear it on special occasions. Rotate between a varieties of fragrances or choose one signature scent for everyday use. Be creative and make body spray work for your lifestyle!
Búsquedas relacionadas
axe body spray, deodorant spray, men's cologne, perfume for women, cheap perfume