Los miembros de CarePass
TM
Mostrando 1-20 de
23 productos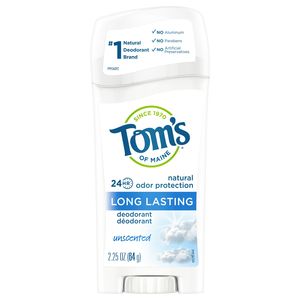 o
en pedidos de $35 o más.
Crystal Essence - Desodorante mineral de bolita, Lavender & White Tea
Crystal Essence
o
en pedidos de $35 o más.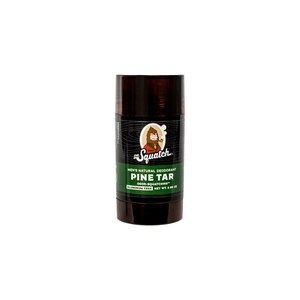 Dr. Squatch Natural Deodorant for Men Aluminum Free, 2.65 OZ
Dr. Squatch
Envío gratis con pedidos de $35 o más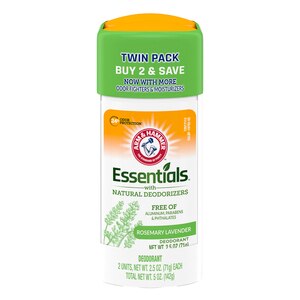 ARM & HAMMER Essentials - Desodorante, sólido ovalado, Rosemary Lavender, paquete de dos (paquete de 2, 2.5 oz)
Arm & Hammer
o
en pedidos de $35 o más.
Tom's of Maine - Desodorante antitranspirante, Coconut Lavender, 2.5 oz
Tom's of Maine
o
en pedidos de $35 o más.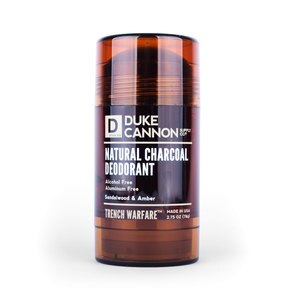 Duke Cannon - Desodorante con carbón natural, Sandalwood & Amber
Duke Cannon
o
en pedidos de $35 o más.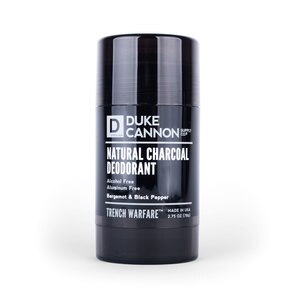 Duke Cannon - Desodorante con carbón natural, Bergamot & Black Pepper
Duke Cannon
o
en pedidos de $35 o más.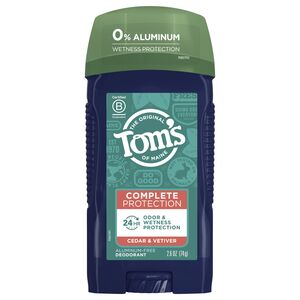 Tom's of Maine Complete Protection Aluminum-Free Natural Deodorant for Men, 2.6 OZ
Tom's of Maine
Envío gratis con pedidos de $35 o más
ARM & HAMMER Essentials - Desodorante, sólido ovalado, Orange Citrus, 2.5 oz
Arm & Hammer
Envío gratis con pedidos de $35 o más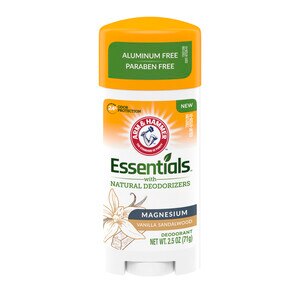 Arm and Hammer Essentials Deodorant, Magnesium, Vanilla Sandalwood, 2.5 OZ
Arm & Hammer
Envío gratis con pedidos de $35 o más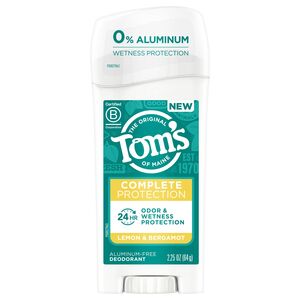 Tom's of Maine Complete Protection Aluminum-Free Natural Deodorant for Women, Lemon & Bergamot, 2.25 OZ
Tom's of Maine
Envío gratis con pedidos de $35 o más
Arm and Hammer Essentials Deodorant, Coconut, 2.5 OZ
Arm & Hammer
Envío gratis con pedidos de $35 o más
Tom's of Maine Long Lasting Deodorant Stick Soothing Beautiful Earth 2.25 OZ, 6 CT
Tom's of Maine
Los precios en línea puede ser diferentes a los precios en tiendas.
Productos relacionados
Ver categorías relacionadas
Desodorante natural
Natural deodorant is typically made without aluminum and artificial fragrances. It replaces these ingredients with options such as cornstarch and essential oil to help control bacteria, odors and perspiration. Natural deodorant comes in spray, solid and liquid forms.
What are the Best Natural Deodorant Brands?
Does CVS Sell Natural Deodorants?
Yes, CVS sells a variety of Natural Deodorants in stores and online.
What Is Natural Deodorant?
Natural deodorant typically refers to deodorant formulated without aluminum. They often contain ingredients that are derived from natural sources, such as essential oils and baking soda. However, natural deodorant is a very broad term and products labelled as natural can still contain chemicals and a wide variety of ingredients, so always be sure to read the label - especially if you have any skin allergies.
Why Use Natural Deodorant?
It has been suggested that the use of aluminum in conventional deodorants could be linked to other health issues. While nothing has been fully proven when it comes to major health issues being caused by aluminum, natural deodorant is still a great options to eliminate any unnecessary ingredients being used on your armpits. With all the conflicting information surrounding aluminum available on the internet today coupled with the move toward chemical-free personal care products, many people have decided to err on the side of caution, giving rise to the natural deodorant industry. Regardless of the lack of aluminum, natural deodorants can still limit body odor and have long lasting results!
What Are The Best Ingredients For Deodorant?
The best ingredients for deodorant include zinc oxide, which has odor-fighting and antimicrobial properties. Titanium dioxide is another good choice and can help to eliminate odor-causing bacteria. Clay is another good ingredient found in natural deodorant that can help to soothe and purify the skin of the underarms while absorbing excess oil and moisture. Charcoal is another good ingredient that can be found in products like Duke Cannon Natural Charcoal Deodorant. Look for deodorant formulated to meet your needs if you have sensitive skin. Essential oils like eucalyptus will leave you feeling fresh and confident, while natural ingredients like shea butter will help to leave your underarms feeling soft and moisturized. Tom's of Maine makes a variety of natural deodorant products featuring pleasant scents like citrus, coconut and lavender to make smelling fresh easy. The best natural deodorant will be an aluminum-free deodorant that contains safe, gentle ingredients like baking soda to help absorb odor and sweat without the use of chemicals.
Are Natural Deodorants Better?
The choice between natural and traditional deodorants is largely a matter of personal preference. Natural deodorant may be better for you if you're sensitive to artificial fragrances. You can still enjoy a pleasant scent; many formulas, including Arm and Hammer Essentials, use plant extracts to create fruity or floral aromas. 
Natural deodorant can also be a good choice if you're trying to eliminate aluminum from your hygiene routine. Some products, such as b.fresh deodorant, are free of both aluminum and parabens. 
How To Switch to Natural Deodorant
Switching to natural deodorant is a simple process - all you need to do is swap out your usual products. Keep in mind that as you make the transition, you may notice a few changes. If you're switching from a strong antiperspirant, your body may sweat more. It's also normal to notice a change in the way you smell.
As your skin adjusts to the new product, these changes typically become less noticeable. Until that happens, a clay mask on your underarms may help control excess odor. You can also try a natural deodorant with a fragrance such as coconut and lavender for a sweet-smelling experience.
Does Natural Deodorant Work?
Natural deodorants use a wide range of ingredients, so you may need to try a few to find which one works best for your body chemistry and perspiration level. Alra deodorant uses lichen extract to help inhibit the growth of odor-causing bacteria and cypress oil to reduce sweating. Tom's of Maine Long Lasting deodorant is made with zinc salts to trap odors and aloe to soothe your skin. 
What's the Best Natural Deodorant?
To find the best natural deodorant for you, think about your priorities. If you want a vegan formula, check out hello deodorant; it's also made without baking soda, aluminum or parabens.  
When you're looking for a variety of fragrances, Native deodorant comes in scents such as vanilla and sandalwood, cucumber and mint or yuzu and orange blossom. These fun fragrances are good options if you need natural deodorant for kids. Native also makes a sensitive deodorant that's formulated to soothe your skin.
Does CVS Deliver Natural Deodorants?
Yes, CVS offers free fast shipping on Natural Deodorants orders over $35. Most orders are delivered within 1-4 days.
Is Natural Deodorants Available For Same Day Pickup?
Natural Deodorants are available for same day pickup at most locations, check your local stores availability and add to cart to pick up today.
How To Save On Natural Deodorants from CVS
Join CarePass today to save on Natural Deodorants products. Enjoy great offers and deals when you sign up. Check the weekly deals and download the CVS App today for exclusive coupons!
All Natural Deodorant
Another popular reason for trying natural deodorant is much less controversial: skin allergies. For those with sensitive skin or allergies to the chemical compounds commonly found in conventional deodorants, natural deodorants can work wonders. However, it is important to remember that even the best natural deodorant can still contain chemicals or other ingredients that may irritate sensitive skin. Always be sure to read the label, and discontinue use if you develop a rash or any other adverse reactions. For those with very sensitive skin, it's a good idea to look for a natural deodorant for sensitive skin. These products are more likely to avoid potentially irritating ingredients like propylene glycol, fragrances, and parabens.
The good news is that whatever your reason, there has never been a better time to switch to natural deodorant! There are plenty of products to choose from, including many well-known and affordable brands like Tom's natural deodorant and Arm & Hammer Essentials natural deodorant.
Switching to Natural Deodorant
Curious about natural deodorant but not sure what to expect? Concerned whether or not it really works? The biggest difference between natural deodorant and your average deodorant stick that contains aluminum is sweating. While most people use the terms deodorant and antiperspirant interchangeably, they actually refer to two different functions. Antiperspirant prevents sweating, while deodorant keeps you smelling good but does not prevent your body from sweating. Aluminum deodorant doubles as an antiperspirant, since aluminum temporary blocks underarm glands to prevent you from sweating. Natural deodorant functions only as a deodorant, so you will still sweat. But there's no need to worry - deodorizing and antibacterial ingredients like baking soda and essential oils are included to help keep you smelling fresh despite any wetness.
The Best Natural Deodorant for You
So you've decided to try a natural deodorant…but which should you choose? If you are looking to avoid aluminum in all its forms, avoid crystal deodorants, as some of these may use alum crystals that contain a type of aluminum. If you want to avoid chemicals entirely, your best bet is an organic deodorant. The term organic is regulated by the USDA, and any product carrying the label is required to meet strict standards. If you are just looking for aluminum free deodorants, you'll have your pick. Everyman Jack is a brand of natural deodorant for men that comes in a variety of masculine scents like cedar, sandalwood, and mint. For women's deodorant without aluminum, consider Alba Botanica o Weleda deodorant. A popular all natural deodorant that caters to both men and women is Tom's deodorant.
Keep in mind that these are just a few of the options available to you. There are many more to choose from top brands like Schmidt's natural deodorant y Tom's of Maine! It may take a few tries to find the right natural deodorant for your needs, so be patient as you make the transition to using deodorant without aluminum. Have fun experimenting with different brands and scents, and don't be afraid to try something unexpected, such as an all natural spray on deodorant. Remember, the best natural deodorant is the one that has you feeling good - and smelling even better!