Los miembros de CarePass
TM
Mostrando 1-8 de
8 productos
Copper Fit Energy Compression Socks, L/XL
Copper Fit
Envío gratis con pedidos de $35 o más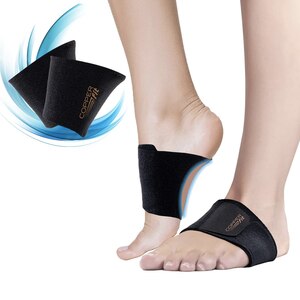 Copper Fit Arch Relief Plus Built-In Orthotic, Adjustable Compression
Copper Fit
Envío gratis con pedidos de $35 o más
Copper Fit Arch relief Compression Bands, One Size
Copper Fit
Envío gratis con pedidos de $35 o más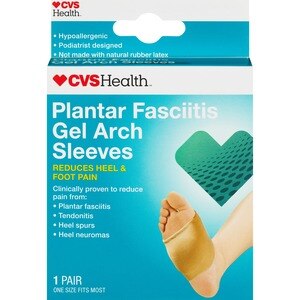 CVS Health Plantar Fasciitis Arch Sleeve
CVS Health
Precio con CarePass
™
$10.79
o
en pedidos de $35 o más.
CVS Health - Almohadilla de espuma de tela de piel de topo
CVS Health
Precio con CarePass
™
$4.79
o
en pedidos de $35 o más.
CVS Health - Media flexible de soporte plantar
CVS Health
Precio con CarePass
™
$10.23
o
en pedidos de $35 o más.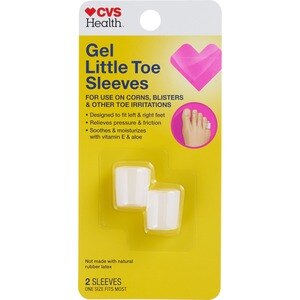 CVS Health - Fundas de gel hipoalergénicas para el dedo pequeño del pie, 2 u.
CVS Health
Precio con CarePass
™
$4.79
o
en pedidos de $35 o más.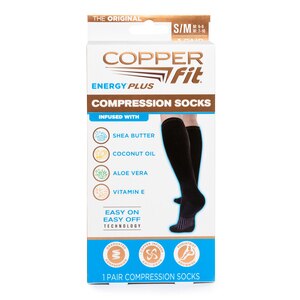 Copper Fit Energy Plus Hydration Compression Socks, S/M
Copper Fit
Envío gratis con pedidos de $35 o más
Los precios en línea puede ser diferentes a los precios en tiendas.
Productos relacionados
Ver categorías relacionadas
Footwear Accessories
When you're experiencing foot pain due to a chronic condition, corn, blister or other problem, getting through your day can be a struggle. Just taking steps to complete your daily routine can be difficult, but it's possible to ease your discomfort and get back to living life to the fullest. Specialty footwear from CVS can address symptoms by protecting and supporting your feet. You can explore the footwear options in this product selection, make a purchase and enjoy convenient shipping to your door.
Foot Protection
Pressure and friction from shoes can contribute to the development of corns, calluses, blisters, bunions and other conditions. By using specialty footwear products, you can improve the fit of your shoes to decrease the risk of these problems or to address existing concerns. Options include padding that you can place wherever you desire and pads and insoles that are designed to fit in a specific area of a shoe.
Foot Support For Plantar Fasciitis
Plantar fasciitis is a painful condition marked by inflammation of the band of tissue that runs along the bottom of your foot. Often, specialty footwear is recommended to reduce pressure on the inflamed area. You can choose from sleeves that fit over the top of the foot, the heel and ankle and plantar fasciitis socks that cover the entire foot.
Pain Relief Shoes
If conventional shoes don't provide enough support for your feet, orthotic footwear can be an excellent alternative. These shoes are designed specifically to provide support for the arches and to keep the feet properly aligned during the day.
What are the Best Footwear & Accessories Brands?
Does CVS Sell Footwear?
Yes, CVS sells a variety of Footwear in stores and online.
Does CVS Deliver Footwear?
Yes, CVS offers free fast shipping on Footwear orders over $35. Most orders are delivered within 1-4 days.
How To Select Shoe Accessories
To learn more about the benefits of any of the footwear items found in this product selection, simply click on the product. The product descriptions will outline the features of the footwear and explain for whom it is intended. As you compare your options, be sure to take size into consideration. Many products are intended to fit individuals of a certain shoe size. Each manufacturer develops their own sizing system, making it important that you carefully read the sizing information.
What Are The Best Shoe Accessories?
Before using shoe accessories to address a foot care concern, discuss the matter with your medical provider. Some problems may require more than just specialty footwear for treatment. Your health care provider can fully diagnose the problem and recommend the best footwear for your needs. Be sure to read the usage instructions included with the footwear carefully and follow them closely to ensure best results.
How To Take Care of Your Feet
It is hard to imagine how much of a beating your feet take every day. Whether you are running, jumping, lifting heavy things, or even just walking around, there is constant impact, friction, moisture, and other things that can cause serious problems. On top of that, many people struggle with improper arches, plantar warts, athletes' foot, and a variety of other problems that can be very painful. This is why it is so important to make sure you know how to take care of your feet properly. Fortunately, there are many different things that you can do to take care of your feet. Everything from choosing the right footwear to always having a good treatment option for any problems that occur will help to give you the protection you need. Read through the various issues and treatment options that are available for foot problems below. Understanding what you can do to protect your feet will help to keep them strong and healthy for many years to come. Also keep in mind that while proper care of your feet can prevent a lot of common problems, it is also important to be able to treat issues that do arise. Whether it is a broken bone, a sore ankle, or any number of other things, always care for your feet. Speak with your doctor or a trusted CVS pharmacist if you have any questions.
Is Footwear Available For Same Day Pickup?
Footwear are available for same day pickup at most locations, check your local stores availability and add to cart to pick up today.
How To Save On Footwear From CVS
Join CarePass today to save on Footwear products. Enjoy great offers and deals when you sign up. Check the weekly deals and download the CVS App today for exclusive coupons!