Los miembros de CarePass
TM
Mostrando 1-4 de
4 productos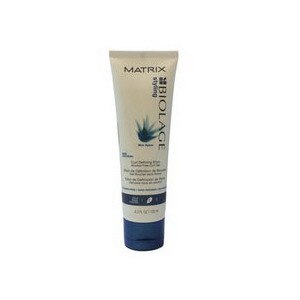 Biolage - Elixir para definir rizos, 4.2 oz
Matrix
Envío gratis con pedidos de $35 o más
Los precios en línea puede ser diferentes a los precios en tiendas.
Alcohol free hair gel
Gels that contain alcohol can dry out your hair, robbing it of its natural moisture. Therefore, people with frizzy or brittle hair tend to opt for alcohol-free hair gels. Short-chained alcohols such as denatured alcohol, propyl alcohol, isopropyl alcohol, and the notorious ethanol are particularly drying. These ingredients are commonly found in hair sprays, gels, and other products designed to dry quickly. Be an informed consumer and keep an eye out for short-chained alcohols in your favorite hair care products. If you have naturally brittle hair, consider using an alcohol-free hair gel. Modern alcohol-free hair gels give you the firm hold you need without the dehydration caused by short-chained alcohols. Non-drying formulas use natural ingredients, such as coconut oil, shea butter, and other natural oils to tame frizzy locks. The best alcohol-free options are also free of parabens, sulfates, silicones, and other potential irritants.
Alcohol free gel for curly hair
Controlling curly hair is a constant struggle. Just when you think you've got it under control, it springs out of order again! Thankfully, alcohol-free gels for curly hair can help you get a handle on your unruly curls. Natural products that contain aloe or coconut oil deliver a firm hold comparable to that of powerful synthetic ingredients. Some alcohol-free gels can even protect your curls from humidity while nourishing them and highlighting their natural shine. For those with particularly sensitive skin or ethical concerns, vegan, alcohol-free gels are available. With vegan hair gels, you can take pride in your well styled curls and your commitment to using ethically sourced hair care products.
Alcohol free hair gel for men
Alcohol free hair gels are ideal for men who prefer to use hair products with a mild, natural scent. As they are often free of synthetic fragrances, you can get a strong hold without a strong smell. If you have sensitive skin, dandruff, or thinning hair, try swapping your current product for an alcohol free hair gel. The ingredients in alcohol-free gel formulas help you sculpt your locks without the stiff, crunchy texture characteristic of alcohol-containing gels. For men in search of a firmer hold, alcohol-free pomades can make your hairstyle sturdy and weather resistant. Try several alcohol-free hair gels to find the scent and stiffness that suits your unique style.
Búsquedas relacionadas
alcohol free cleanser, alcohol free moisturizer, alcohol free mouthwash, alcohol free witch hazel, toallitas con alcohol