If your little one is suffering from congestion thanks to a cold or respiratory infection, baby nasal spray can help. These special sprays are designed to help clean out excess mucus that builds up in the nasal passages and sinuses, which can make breathing easier for your baby. Most forms of baby nasal spray come in the form of a saline drop. They can work rather effectively, however, it can often be a challenge for parents to administer to their little ones. It's important to consult your pediatrician before administering nasal spray to your baby.
Cómo conseguirlo
Recogida no disponible
Cambiar tienda
Los miembros de CarePass
TM
Mostrando 1-4 de
4 productos
CVS Health Saline Nasal Spray with Aloe, 3 OZ
CVS Health
Precio con CarePass
™
$5.59
o
en pedidos de $35 o más.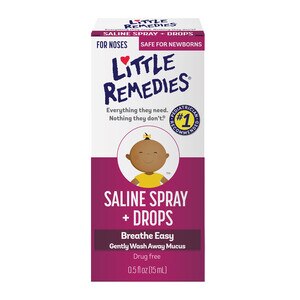 Little Remedies - Solución salina en spray y gotas, apto para recién nacidos
Little Noses
o
en pedidos de $35 o más.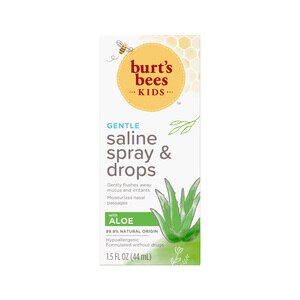 Burt's Bees Kids Saline Spray and Drops, 1.5 OZ
Burt's Bees
o
en pedidos de $35 o más.
Los precios en línea puede ser diferentes a los precios en tiendas.
Nasal Spray For Babies
Before you begin, make sure you have the baby saline drops and a bulb syringe so you can administer it. Hold your baby upright or at a slightly reclined position, preferably in your arms with their head gently laid back. Place 2 to 3 saline drops in one nostril and wait a few moments so it can get into the nasal area.
Next, take the bulb syringe and squeeze it with the bulb end closed to push the air out. Place the tip of the bulb syringe into your baby's nostril where the saline drops were administered. Gently release the bulb, and the suction should help to remove the excess mucus and saline from your baby's nose. Repeat this for the other nostril. You may need to wait a few minutes until your baby has calmed down before administering the saline and using the bulb syringe in the other nostril.
How To Use Nasal Spray For Babies
Depending on the situation, your baby will most likely not enjoy having nasal baby spray put into his or her nose. To help the situation, you have another adult assist you with holding the baby's head nice and still while ensuring they are confortable. Try to apply the baby nasal drops before naptime or before feeding. You can remove sticky and dry mucus by using a warm, soft washcloth. Always clean your bulb syringe with soap and water after use to prevent the buildup of germs.
Baby nasal spray is commonly used because it does not contain any medication. When shopping for sprays, look for other added features like no alcohol and a small, baby-sized applicator tip. Only use alcohol free formulas to avoid irritating or stinging your baby's nose. Make sure the spray does not contain any other harmful additives like preservatives or coloring.
Búsquedas relacionadas
allergy medicine for kids, infant cold medicine, baby toothbrush, baby toothpaste, organic baby food