Mostrando 1-6 de
6 productos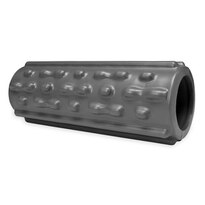 Los precios en línea puede ser diferentes a los precios en tiendas.
Foam Rollers
Foam rolling is a popular stretching method for many people around the world. This powerful and simple strategy can produce amazing health benefits. Foam rollers are now easily accessible, either shared at the gym or purchased for a low cost for home use. With few minutes of use, a foam roller can increase flexibility, muscle healing, movement efficiency, suppress hyperactive muscles, and reduce discomfort. Foam rollers are a great way to reduce muscle soreness, improve range of motion in tight muscles, and are extremely beneficial to athletes looking to speed up recovery times and reduce soreness.
We are here to help. Shop from a wide range of foam rollers at your nearest CVS Pharmacy® cercana.
How To Use Foam Rollers
Remember to take deep breaths. Many people become so preoccupied with the sensation of rubbing a painful knot that they forget to breathe. Using a foam roller to give oneself a deep tissue massage is essentially a more cost-effective option. Also, you can help break up adhesions and scar tissue. Keep in mind that you can speed up the healing and recovery process after your workout by slowly rolling foam rollers over various areas of your body.
When learning how to use a foam roller, it's best to start off with gentle use rather than pushing yourself too hard. As you gain a better understanding of how your body reacts, you can vary your intensity. Experiment with tiny adjustments to your body position while using your foam roller to find the most effective technique. Often times, people will use foam rolling as form of physical therapy after their workout to target the muscle groups that are most heavily used in their workout or sport.
Foam Roller Exercises
Roll for a period of between 30 and 60 seconds over your foam roller, pausing to let your muscles relax on the roller whenever you encounter a sore or tight place.
Just remember to not strain your body, or you might feel discomfort and residual muscle soreness.
Foam Roller For Back
Back discomfort affects around 80% of the population, making it one of the most common reasons for doctor visits and time lost at work. For new users of foam rollers, the most basic and common activity is simply lying on your back and rolling out your spine. This exercise will help to reduce stiffness and knots caused by long hours of sitting by targeting the various muscle groups in your back, while also working to realign your spine for better posture. Foam rolling is a powerful tool for targeting tight muscles and knots that limit your body's ability to decompress and recover effectively.
What are the Best Foam Rollers Brands?