Cómo conseguirlo
Recogida no disponible
Cambiar tienda
Los miembros de CarePass
TM
Mostrando 29-32 de
32 productos
CVS Health Acne Control Gel Saciliyic Acid 2% Treatment, 1.35 OZ
CVS Health
Precio con CarePass
™
$13.43
o
en pedidos de $35 o más.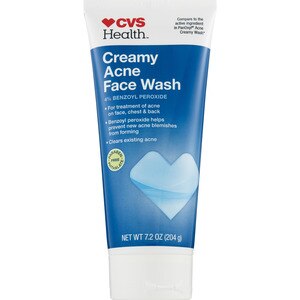 CVS Health - Limpiador facial cremoso antiacné, 7.2 oz
CVS Health
Precio con CarePass
™
$7.99
o
en pedidos de $35 o más.
Gillette Venus for Pubic Hair and Skin, Daily Soothing Serum, 1.7 oz
Gillette Venus
Compre 1, lleve 1 al 50% - ¡Agregue 2 o más para recibir la oferta!
Envío gratis con pedidos de $35 o más
Los precios en línea puede ser diferentes a los precios en tiendas.
Lactic Acid
You may be familiar with lactic acid since it's an ingredient that is naturally found in milk. However, this form of alpha hydroxy acid is also used in a variety of health, beauty, and skincare products, too. This naturally occurring essence helps to promote the retention of moisture to reveal smoother, younger-looking skin. It's also used in supplements and other healthcare products. Read on to learn more about lactic acid and what it can do for you.
What Is Lactic Acid?
Lactic acid is a form of alpha-hydroxy acid, and it's the most popular of its kind in the skincare world. This unique ingredient can be found in a wide variety of products that range from face and body lotions to professional-grade facial peels and other treatments. You can find lactic acid naturally in things like yogurt and milk, which may explain why people have used dairy products to get smoother skin for centuries. In fact, some famous people like Cleopatra were rumored to bathe in milk as part of their regimen! Today, you will find lactic acid in products you can purchase online or at your local CVS. It is also now synthetically produced, so not all sources come directly from dairy products. When used on a regular basis, lactic acid can help to transform your skin in a gentle yet effective way.
Lactic Acid Benefits
If you decide to use skincare products and lotions that contain lactic acid, here are some of the main benefits you should start to notice with regular use:
Lactic acid can exfoliate your skin and remove old, dull cells by sloughing away the surface and dissolving the bonds that hold the old skin cells together. It also speeds up cell turnover and encourages cell renewal.

You should get smoother, softer skin after using products with lactic acid as directed.

This ingredient smooths your skin's texture, but it also improves the skin's natural moisture level, helping it keep itself hydrated without experiencing dryness.

Using lactic acid can improve the signs of aging and can firm your skin by stimulating the production of collagen. It may also help to reduce sun spots, age spots, and smooth out fine lines and wrinkles.

Lotion that contains lactic acid is used to treat keratosis pilaris by dissolving skin cells that have built up around the hair follicle, resulting in smooth skin with no bumps.

You can also use lactic acid to help treat an assortment of skin conditions including rosacea, eczema, and psoriasis but always talk to your doctor or dermatologist before using it.