Los miembros de CarePass
TM
Mostrando 1-6 de
6 productos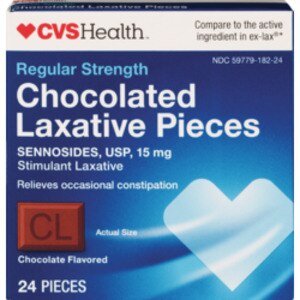 CVS Health Chocolate Laxative Pills Regular Strength, 18 CT
CVS Health
Compre 1, lleve 1 al 50% - ¡Agregue 2 o más para recibir la oferta!
Los miembros de CarePass
TM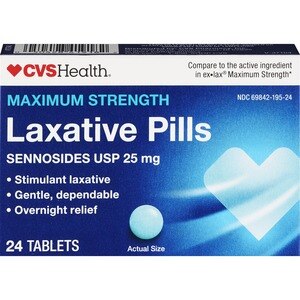 CVS Health Maximum Strength Laxative Pills Sennosides USP 25 mg
CVS Health
Compre 1, lleve 1 al 50% - ¡Agregue 2 o más para recibir la oferta!
Los miembros de CarePass
TM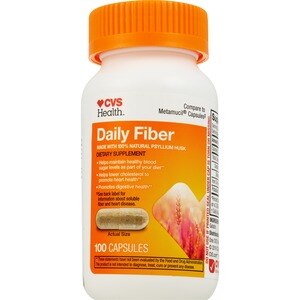 CVS Health Natural Daily Fiber - Cápsulas
CVS Health
Compre 1, lleve 1 al 50% - ¡Agregue 2 o más para recibir la oferta!
Los miembros de CarePass
TM
Los precios en línea puede ser diferentes a los precios en tiendas.
How fast do laxative pills work?
While bulk-forming laxatives may begin to work within 12-24 hours, their full impact often takes 2-3 days to develop. Because osmotic laxatives such as lactulose take 2-3 days to work, they are not appropriate for providing immediate relief from constipation. Stimulant laxatives often take effect between 6 and 12 hours.
Laxative pills
Laxatives are medicines that aid in the stimulation of bowel motions or the loosening of feces in order to facilitate its transit. They are often used to treat constipation, which is characterized by irregular, uncomfortable, or difficult stool motions. Additionally, they have become a popular technique for weight reduction. Constipation may be relieved and prevented with the use of laxatives. However, not all laxatives are safe to take for an extended period of time. Excessive usage of some laxatives may result in addiction and impaired bowel function. If you have ever had constipation, you have probably experimented with over-the-counter laxatives. Numerous factors, including a poor diet, inactivity, and some medicines, may interfere with regular bowel function and result in constipation. Numerous over-the-counter laxatives are available that are both safe and effective for treating occasional constipation in a number of methods. However, it is critical to carefully read and follow the label instructions. Excessive usage of laxatives may have severe consequences.
Natural laxative pills
The frequency with which you have bowel movements varies, but most individuals have between three and three bowel movements each day. Constipation occurs when you have fewer bowel motions than is typical for you. Additionally, constipation may result in feces that are difficult to pass due to their hardness, dryness, or small size. However, before reaching for laxatives, consider the following lifestyle modifications to relieve constipation:
• Consume foods that are high in fiber, such as wheat bran, fresh fruits and vegetables, and oats.
• Consume lots of fluids on a regular basis.
• Exercise on a regular basis. While lifestyle modifications may alleviate constipation in many individuals, if symptoms persist after these changes, a moderate laxative may be the next step. Certain products combine several laxatives, for example, a stimulant and a stool softener. However, combination goods may not always perform better than single-ingredient ones. Additionally, they may be more prone to produce adverse consequences. A laxative with a single component may be more effective for you. Read labels carefully to ensure you understand what you are taking and proceed with caution.
Búsquedas relacionadas
fiber gummies, fiber powder, beta glucans, liquid laxative, natural laxative