Cómo conseguirlo
Recogida no disponible
Cambiar tienda
Los miembros de CarePass
TM
Mostrando 1-20 de
56 productos
o
en pedidos de $35 o más.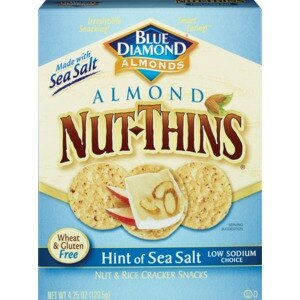 Blue Diamond Nut Thins - Galletas, Hint of Sea Salt, 4.25 oz
Blue Diamond
Envío gratis con pedidos de $35 o más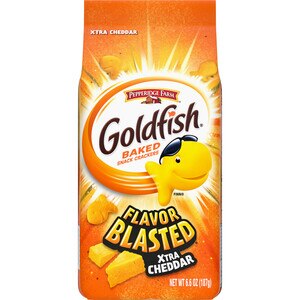 Pepperidge Farm Goldfish Flavor Blasted Xtra Cheddar Crackers , 6.6 Oz
Pepperidge Farm
Los precios en línea puede ser diferentes a los precios en tiendas.
Más productos relacionados
Buy Crackers Online
Whether you like cheese crackers or plain crackers, they can be a crunchy, satisfying snack. A cracker is a biscuit that is hard and brittle and may be leavened or unleavened, depending on the variety. If you're hungry for crackers, there's no need to visit the grocery store to satisfy your craving. CVS makes it possible to shop for crackers online and have your favorite variety shipped right to your door.
Galletas saladas
Crackers can be enjoyed in a number of different ways. Many people like to eat them on their own as a snack, and crackers are easy to transport due to their size. When serving cheeses, like tostitos cheese dip during a meal or as an appetizer or snack, you can present crackers alongside. In addition, crackers can be a great way to enjoy dips, spreads, chutneys, tapenades, nut butters and other foods that can be scooped or spread.
Types Of Crackers
There are many different types of crackers available for you to consider. Part of what determines cracker consistency is the number one ingredient, which is named first on the ingredients listing of the product selection. Some crackers have flavors and seasonings added to enhance their taste. For example, you can find crackers flavored with different types of cheeses. Crackers are also offered in a variety of shapes including circles, squares and rectangles.
Packaged Crackers
Once you have focused on the type of crackers that you prefer, you can consider the various sizes of packaging that are available. Keep in mind that once a package of crackers is opened, air can cause the food inside to become stale. As a result, you don't want to purchase more crackers that you can eat within a relatively short period of time. Resealable packages can slow down the process and help crackers, like ritz crackers remain tasty for longer. If you're looking for crackers for just one person to enjoy, there are individual packages and individually wrapped crackers available. The product descriptions will tell you more about how many servings of crackers are provided in each package featured in this selection.
Healthy Crackers
If you have a special dietary concern, shopping for crackers doesn't have to be difficult or stressful. CVS allows you to filter products by concern so that you can find crackers that will fit perfectly into your eating plan with ease. This assortment of crackers includes options for all natural, kosher, diary free, gluten free, vegan, low sodium and other diets.
What are Crackers Made Of?
There are many different types of crackers available, and they each have their own unique list of ingredients. Almost all crackers, however, will be made with all-purpose flour, sugar, salt, some type of fat, and water. These ingredients are combined and mixed before the crackers are baked to perfection. In most cases, they will then be seasoned with salt or other seasonings to give them a delicious flavor. Many crackers are also topped with melted cheese or other ingredients that make them delicious. With so many types of crackers available, the list of different ingredient combinations is extensive.
What are Different Types of Crackers?
There are hundreds of different types of crackers available to enjoy. Some of the most popular options include Ritz crackers, Honey Maid graham crackers, animal crackers, saltine crackers, Goldfish crackers, and more. While all crackers are good for almost any situation, some types of crackers are more commonly enjoyed at specific times. For example, Cheez-Its are typically considered a snacking cracker. Triscuits, on the other hand, are usually topped with meats, cheeses, and other deli foods, and enjoyed. No matter what type of cracker you like most, make sure you have a good supply when you need them by shopping at CVS Pharmacy.
Búsquedas relacionadas
saltine crackers, triscuits, goldfish crackers, club crackers, cheese crackers, frosted animal crackers