Electrodomésticos pequeños
Los miembros de CarePass
TM
Mostrando 1-20 de
49 productos
Electrodomésticos pequeños
o
en pedidos de $35 o más.
Toastmaster - Tostadora para 2 rebanadas, negro
Toastmaster
o
en pedidos de $35 o más.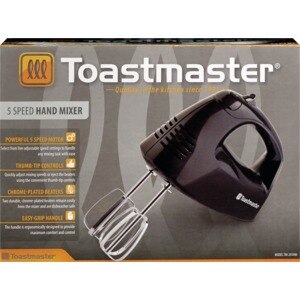 Toastmaster - Batidora de mano con 5 velocidades
Toastmaster
o
en pedidos de $35 o más.
Envío gratis con pedidos de $35 o más
o
en pedidos de $35 o más.
o
en pedidos de $35 o más.
Los precios en línea puede ser diferentes a los precios en tiendas.
Electrodomésticos pequeños
When you need to get tasks done quickly, small appliances can make life a whole lot easier. Whether it's your kitchen or another part of the home, a small appliance gets big tasks accomplished while taking up a lot less space. From handheld vacuum cleaners to toaster ovens, these mini appliances are a great addition to your busy household.
Best Small Kitchen Appliances For You
Before you purchase a new small appliance for your home, there are a few things to keep in mind. First, decide if you have ample counter space to accommodate the new appliance. You don't want to clutter your counters if you can help it since you'll need that extra workspace to prep and cook meals. Next, look at the style of the small appliances you're interested in. Do they match your current décor or theme? How about colored appliances versus stainless steel? Look at several designs to decide which one will work best in your home in terms of aesthetics.
Think about the purpose of the small appliance you want. Is it something that will make your life easier? How about functionality and maintenance? Ideally, small appliances should help you accomplish a specific task in a shorter amount of time. They should also be easy to clean and care for so that you can use them for years to come. Read reviews of several small appliance brands to find out more about the various pros and cons. This can help you decide which ones are best for your needs, and which ones should stand the test of time.
Types of Small Appliances
There are hundreds of different small appliances on the market today, and each one has a specific purpose. Here are some of the most popular small appliances that may help make your life easier: • Blenders and food processors: These small appliances are perfect for making smoothies and for a variety of recipes. Look for a blender or food processor with different blades so it performs several functions in one. • Toaster ovens: Perfect for quick meals, a toaster oven can help you prepare fast lunches or dinners in a flash. Some toaster ovens feature a convection option that can make cooking your favorite snacks and foods even faster. • Handheld vacuums: A mini vacuum is perfect for cleaning up quick messes in the car and around the home. Make sure your handheld vacuum is rechargeable so you can simply unplug it and go. • Tabletop fans: Small fans are a great way to circulate the air and keep you cool. Try a tabletop fan for your desk or bedroom to keep you comfortable.
Búsquedas relacionadas
oster 4 slice toaster ovens, lasko box fan, best electronics, best aaa batteries