Los miembros de CarePass
TM
Mostrando 1-7 de
7 productos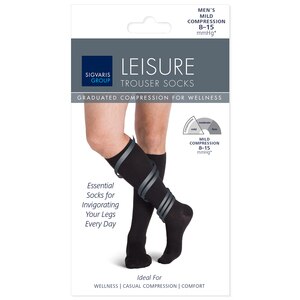 SIGVARIS Leisure Trouser Compression Socks, Men's, 8-15mmHg, Black
Sigvaris
Envío gratis con pedidos de $35 o más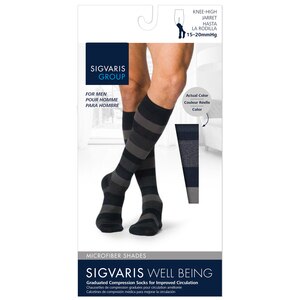 SIGVARIS Microfiber Shades Compression Socks, Men's, 15-20mmHg, Graphite Stripe
Sigvaris
Envío gratis con pedidos de $35 o más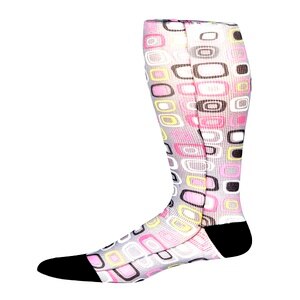 Envío gratis con pedidos de $35 o más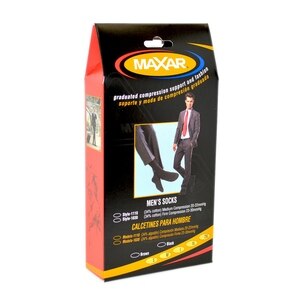 Maxar Men's Trouser Support Socks (20-22mmHg)
Maxar
Envío gratis con pedidos de $35 o más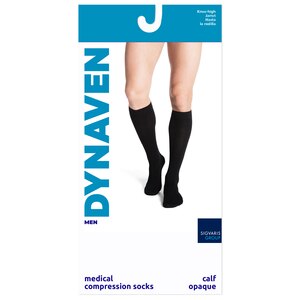 Sigvaris Men's Access 920 Calf 20-30 mmHg Black
Sigvaris
Envío gratis con pedidos de $35 o más
Los precios en línea puede ser diferentes a los precios en tiendas.
What Are Compression Socks?
Compression socks are medical garments. They're often recommended to ease the discomfort of varicose veins and reduce edema (swelling) in the lower leg. Compression socks can also help speed recovery after vein treatment. The gentle, continuous pressure at the ankle helps the circulatory system direct blood flow back towards the heart.
How Are Compression Socks For Men Sized?
Compression socks are generally made with a blend of nylon, spandex, or lycra. Many are latex-free. Since fit determines how well compression socks perform, proper sizing is essential. Most companies provide a simple, easy-to-understand sizing chart on the outside of the package. Compression socks are sized much like standard socks, by shoe size. Depending on the brand, you may see US and European sizes. The sizing chart might also specify ankle measurements, the circumference of the smallest point directly above the bone. This measurement is important. Compression socks that don't fit properly at the ankle are unlikely to provide adequate compression. To ensure you measure accurately, consider taking the measurement in the morning when your ankles are least likely to be impacted by fluid accumulation.
Which Compression Level Should I Choose?
Today's compression socks are much more comfortable than the medical-grade stockings of previous generations. Most knee-high compression socks have a comfortable elastic band that helps hold them in place and prevent rolling. Once you've determined your size, you'll also need to choose the level of compression best suited to your needs. Like blood pressure readings, compression levels are measured in millimeters of mercury (mmHg). The larger number tells you the level of compression at the ankle. For mild discomfort, consider light (8-15 mmHg) or mild compression (15-20 mmHg). For moderate to severe edema (swelling), leg ulcers, or athletic recovery, your health care provider might recommend medium (medical grade class1) compression (20-30 mmHg).
Which Men's Compression Socks Are Best?
The best compression socks for one person could be much different than the best compression socks for someone else. But in general, you'll know if a pair of compression socks is right for you by the way your legs look and feel. The best compression socks are supportive, comfortable, and don't bunch behind your knees. They're not too loose, stay in place, and the fabric feels comfortable against your skin. At CVS, you'll find an assortment of men's compression socks, including dress socks and novelty prints by Maxar®, Prince Daniel™, and Futuro™.