Cómo conseguirlo
Recogida no disponible
Cambiar tienda
Los miembros de CarePass
TM
Mostrando 21-29 de
29 productos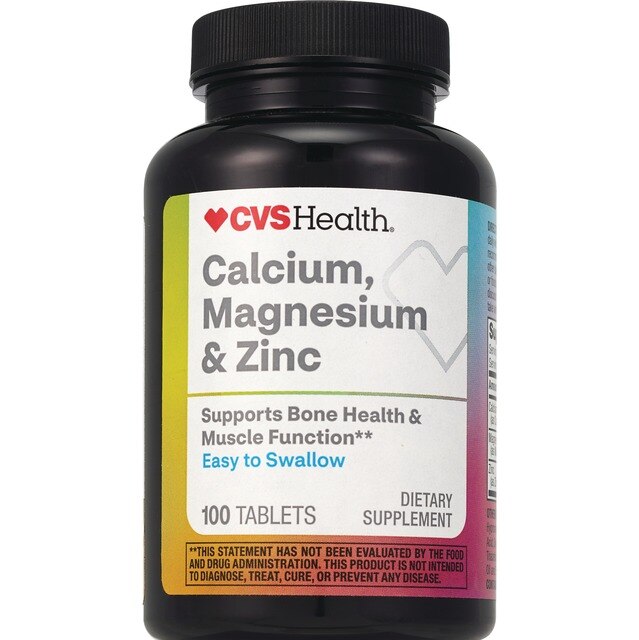 CVS Health - Calcio y magnesio con cinc en tabletas
CVS Health
Buy 1, Get 1 for $0.99 - Add 2 or more to qualify!
o
en pedidos de $35 o más.
CVS Health - Gomitas de calcio, 60 u.
CVS Health
Buy 1, Get 1 for $0.99 - Add 2 or more to qualify!
o
en pedidos de $35 o más.
Nature Made - Calcio (carbonato) c/D en tabletas, 500 mg, 130 u.
Nature Made
Buy 1, Get 1 for $0.99 - Add 2 or more to qualify!
o
en pedidos de $35 o más.
CVS Health - Calcio de 600 mg + vitamina D y minerales en tabletas
CVS Health
Compre 1, lleve 1 al 50% - ¡Agregue 2 o más para recibir la oferta!
o
en pedidos de $35 o más.
Nature Made - Calcio (carbonato) c/vitamina D en cápsulas blandas, 600 mg, 100 u.
Nature Made
Buy 1, Get 1 for $0.99 - Add 2 or more to qualify!
o
en pedidos de $35 o más.
CVS Health Calcium 1200mg + Vitamin D3 Softgels, 120 CT
CVS Health
Buy 1, Get 1 for $0.99 - Add 2 or more to qualify!
Envío gratis con pedidos de $35 o más
CVS Health - Cápsulas de calcio con concha de ostra + D, natural, 500 mg
CVS Health
Sundown Naturals - Calcio y vitamina D3 en gomitas, 50 u.
Sundown Naturals
Buy 1, Get 1 for $0.99 - Add 2 or more to qualify!
Los precios en línea puede ser diferentes a los precios en tiendas.
Best Calcium Supplement
Has your doctor recommended that you add a calcium supplement to your diet? CVS can help you find the best calcium supplement for your needs. This product selection includes a wide range of calcium supplements in different doses and forms. You can shop the entire selection or filter the products to quickly narrow down the options.
When it comes to having healthy bones, calcium is a must. This essential nutritional component is vital to keeping your teeth and bones strong. As you get older, the risk of bone diseases like osteoporosis increases. If you don't get enough calcium in your diet, a supplement can be an effective way to give your body the calcium it needs to stay healthy and prevent bone breakage and bone loss.
What Is Calcium?
Calcium is a mineral that your body requires but cannot manufacture on its own. Your body can absorb calcium from dairy products, vegetables, meats, seafood, legumes and other foods. Many people do not get enough calcium from diet alone and take supplements in order to increase their supply of the mineral. Postmenopausal women, vegans and people with lactose intolerance and milk allergies are especially at risk for calcium deficiency.
What Does Calcium Do?
In the human body, calcium has a number of important jobs. The mineral is necessary for building and maintaining strong bones and teeth and is needed for the proper functioning of the heart, muscles and nerves. Often, doctors recommend calcium for older adults who are at risk for developing bone loss and osteoporosis. Additionally, health care providers may suggest calcium supplements for heart health, kidney stones, weight management and other concerns. Your medical provider can help you decide if a calcium supplement is right for you and recommend the right dose for your needs.
What Is The Best Form Of Calcium To Take?
There are a number of different types of calcium that are used in calcium supplements. Calcium carbonate is a popular, economical choice that is usually taken with food. Calcium citrate supplements are slightly more expensive but can be taken with or without food for added convenience. You can also find supplements that contain calcium gluconate and calcium lactate. Some other supplements include calcium with vitamin d. This essential vitamin helps the human body properly absorb and utilize calcium.
How Much Calcium Per Day?
Calcium dosages are measured in milligrams (mg). Supplements may contain anywhere from 100 to 2000mg of calcium per serving. It's a good idea to begin your search by focusing on the products that offer the right amount of calcium for your needs. Then, you can compare the forms available and choose the one that will be the easiest for you to take. Manufacturers offer calcium supplements in tablet, capsule, softgel, caplet, liquid, gummies, chewable and powder forms. Slow release formulas that gradually release small amounts of calcium over an extended period of time are available in addition to conventional options.
Calcium Citrate vs Calcium Carbonate
Calcium supplements come in several forms, and carbonate and citrate are two of the most common. But, what's the difference between these two forms of calcium? Supplements containing calcium carbonate should be taken with a meal since they require stomach acid to help them dissolve and absorb into the body. This form has the most calcium per pill, so usually, fewer pills are needed than other types, Calcium citrate is absorbed much better on an empty stomach and will not cause constipation. However, this form has less calcium per pill so you may need to take more to get the same benefit.
Calcium Supplements for Women
Women need more calcium in their diets than men since they're much more susceptible to bone density loss. The best calcium supplement for women should contain vitamin D3 to help with absorption. Ideally, women should get between 400 and 800 IU of vitamin D per day in addition to the recommended dose of calcium. Read all supplement labels carefully to make sure that you're getting the right dose for your needs. Talk to your doctor about what level of calcium they recommend so you can get the right intake daily.
Calcium Rich Foods
Although calcium is the most abundant mineral found in our bodies, we sometimes still do not have enough for optimal bone and tissue strength, heart health, muscle function, and nerve signaling. Calcium can be found in a myriad of different foods, is featured in some dietary supplements, and is even added to some medications such as antiácidos. To ensure your body is receiving enough of this vital mineral, you can incorporate calcium-rich foods in your nutrition plan and further supplement your diet with some multivitamins. While some people immediately jump to dairy options to up their calcium intake, there is a multitude of foods containing calcium for your enjoyment that you can turn to. Some calcium superstars include seeds, cheese, yogurt, sardines, canned salmon, beans and lentils, tofu, and leafy greens. To further benefit your overall well-being with a body that is fully satiated by calcium you can add dietary supplements found at CVS to your daily regime. Because calcium is best absorbed with the help of vitamin D and magnesium, many supplements feature a combination of both or all three vitamins and minerals.
Calcium Supplement Side Effects
Calcium is generally safe to take, however, it may cause a few minor side effects. Gas and constipation are the two most common side effects in people who take calcium at the recommended dose. To avoid constipation, take calcium citrate instead of calcium carbonate, which is known to cause constipation in some people. If you take too much calcium, it can increase the risk of a heart attack in older people according to some research. Try not to exceed 1000 to 1200 mg of calcium per day, including any you get from your diet. Another rare side effect is a condition called milk-alkali syndrome which can lead to kidney stones and other serious health issues. Stick to getting most of your calcium from your diet, and you can get more of this mineral safely by taking a high-quality calcium supplement every day.
Búsquedas relacionadas
magnesium for bones, turmeric for bones, fish oil for bones, vitamin d for bones, vitamin d gummies