Mostrando 1-5 de
5 productos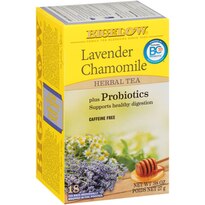 Los precios en línea puede ser diferentes a los precios en tiendas.
Chamomile Tea Benefits
If you're looking for a soothing, relaxing, and delicious tea-chamomile is an excellent choice. Rich in healthy flavonoids, drinking chamomile tea provides you with a range of health benefits, including:
Drinking a warm or hot cup of chamomile tea can help you relax before bedtime. This tea is known to help reduce anxiety and promote feelings of calm so you can fall asleep soundly and reduce your chances of insomnia.

Chamomile tea contains compounds with anti-inflammatory properties, which makes it a good choice to help soothe various pains related to arthritis, gastrointestinal pain, and premenstrual syndrome.

Some studies have shown that drinking chamomile tea may help lower blood sugar in people with diabetes. While it should not be the only method to treat diabetes, drinking a cup or two per day may help.

Because it's packed with flavonoids, chamomile tea may also support healthy blood pressure and cholesterol levels.

Other health benefits of chamomile include anti-estrogenic effects.
What Does Chamomile Tea Taste Like?
The word chamomile comes from Ancient Greek words that mean "earth" and "melon." This beautiful and delicate chamomile flower has a sweet, apple-like scent when it's freshly bloomed. When the chamomile flowers are picked, they're dried slowly to preserve the delicate flavor. When you drink chamomile tea, you may notice subtle notes of apple along with a mellow, honey-like sweet flavor with some slight flowery notes. Likewise, because it is a herbal tea, it is caffeine free to support its claims of reducing anxiety and promoting a good night's sleep. Some people enjoy drinking chamomile tea without sugar, but you can also add a small amount of sugar to taste if you choose. Mix a bit of honey with your chamomile tea to enhance its natural honey sweetness.
Búsquedas relacionadas
black tea, chai tea, decaf tea, diet tea, echinacea tea, green tea extract