Cuadernos y papel carbónico
Cómo conseguirlo
Recogida no disponible
Cambiar tienda
Los miembros de CarePass
TM
Mostrando 1-20 de
100 productos
Artículos para oficina y escuela
Cuadernos y papel carbónico
Blue Sky Hard Cover Notebook 5x8, 160 Pages, Charcoal
Blue Sky
Envío gratis con pedidos de $35 o más
o
en pedidos de $35 o más.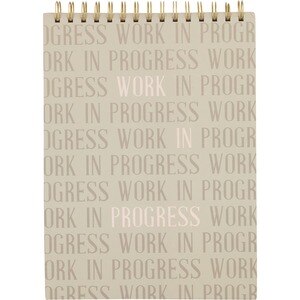 o
en pedidos de $35 o más.
Los precios en línea puede ser diferentes a los precios en tiendas.
Cuadernos y papel carbónico
Who knew that in these modern times of 'the digital age' that we would be so reliant on paper? While typing out notes or ideas might be easier, there is a broad recognition that writing things down by hand helps with memory. Whether you are taking notes at lectures or want to plan out a business idea, writing things out by hand can help immensely. From notebooks, journals, sticky notes, and printer paper, CVS® provides a wide variety of choices for you to help you create, list, record, and present your ideas on paper.
Types Of Notebooks 
Legal pads - Both at school and in business, legal pads are the workhorse of note-taking. One effective way of using legal pads is to simply write out what needs recording, tear out the page, then organize them in manila folders. An excellent alternative for note-taking and writing is a wide-ruled spiral-bound notebook.
Spiral-bound (wire bound) notebooks have, as the name indicates, a spiral coil binding, usually made of wire or plastic. Unlike regularly bound notebooks where the paper is glued together at the spine, a spiral notebook has two detached covers for the front and back, and the pages in between are held in place by the coiled binding. Spiral-bound notebooks are the most manageable type to use with limited desk space. With a spiral-bound notebook, you can open the notebook to any page and turn the cover and preceding sheets under, and it will lie flat in a compact fashion.
Post-it notes are an essential tool. You can set reminders for yourself and paste them up where they will be most visible. Post-it notes plastered onto the computer screen is difficult to ignore. Another practical use of sticky notes is in organizing ideas and information. Writing out concise ideas or concepts and laying them out on a tabletop and shuffling them around to create plans, processes, or workflows is one effective way of using Post-it notes.
Getting things down on paper is still one of the best ways to plan your day, week, or life, complete an assignment, brainstorm the next startup, write a novel, and organize thoughts.
Whether you're getting ready to create an artistic masterpiece of your own or helping your child complete a craft, you don't have to head to a specialty store to pick up the supplies that you need. At CVS, you can find a huge selection of arts and crafts supplies to bring your projects to life. In this product assortment, you can discover all of the construction paper that's currently available for easy shopping online and at your local store.
Construction Paper Crafts
To ensure that you select the best construction paper product for your needs, begin by thinking about your project. Are you looking for supplies for paper crafts or artwork or are you stocking up on construction paper for general use in your home? If you have a specific project in mind, consider how you will be using the paper carefully. This will help you to quickly narrow down the options.
Construction Paper Sizes
Once you have a clear picture of what you'll be using your arts and crafts supplies for, you can compare the specific features of the construction paper that's available. Size is an excellent place to start. Construction paper is often offered in a variety of sizes. Some standard sizes include 9 inches by 12 inches and 12 inches by 18 inches. If you need paper in an irregular size, it's best to purchase larger sheets that you can cut.
Types Of Construction Paper
After you have focused on construction paper that is the right size for your needs, you can consider the formats of the products available. Some construction paper is sold loose in plastic wrap. Loose construction paper can make it easy for you to locate the color you desire and makes it simple for multiple people to create crafts or art projects at once. You can also find construction paper with binding. With this type of construction paper, you tear out a sheet before working. The binding helps to keep the construction paper organized and free of wrinkles and creases while in storage.
Búsquedas relacionadas
mechanical pencils, pencil sharpeners, marcadores, photo paper, papel para imprimir, sobres