5 skin care methods that can help reduce adult acne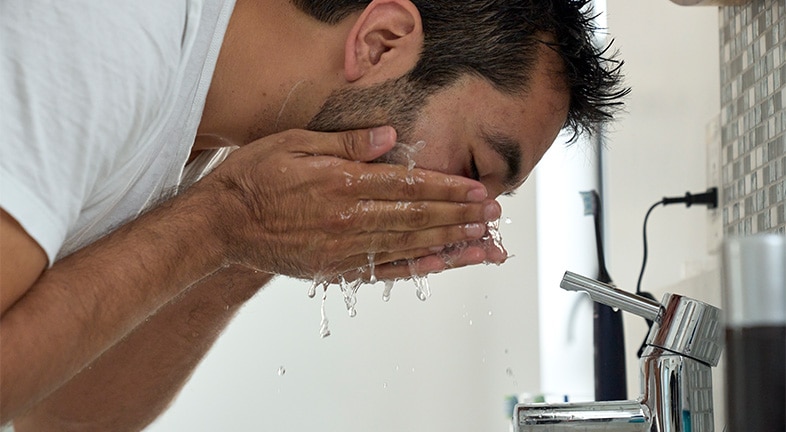 When that pimple shows up, stay informed about the best steps to take — and what products to keep in your medicine cabinet.
Here's one of life's little "you gotta be kidding me" moments: You wake up one morning to find a pimple cluster front and center on your chin. Wasn't this kind of surprise supposed to be over once high school was in the rearview mirror? Research, however, points to stress as a possible factor in the worsening of acne, which may help explain why acne can affect adults later in life. In fact, about 20 to 40 percent of women who have adult acne experience it for the first time as an adult, according to the American Academy of Dermatology.
En este artículo:
What causes adult acne?
The basic mechanics of a pimple are well understood. The skin has pores that release oil and sweat from the body. When these pores get clogged with dead skin cells, oil or dirt, it can lead to acne. Researchers don't know why some people are more prone to bouts of acne, but hormones probably play a role.
Stress is another factor that seems to worsen acne, and it's one that researchers have been working to understand better. "Stress causes cortisol to surge, and cortisol causes inflammation and a spike in glucose," says Deanne Mraz Robinson, MD, a dermatologist in Westport, Connecticut. "These two factors are associated with acne." In fact, acne is considered an inflammatory skin condition; many of its hallmarks - the redness, swelling and tenderness that often accompany a pimple - are classic symptoms of inflammation.
So, how to get rid of breakouts? You can take charge of clearing up your skin by following five smart ways to help prevent and treat acne.
5 skin care routines to help prevent breakouts
1. Use retinoids
Retinoids, or vitamin A derivatives, are a popular acne fighter. As an effective tratamiento para el acné, they can help to unclog pores and reduce inflammation. "It also helps minimize scarring from acne breakouts," says Dr. Robinson.
Differin 0.1% adapalene gel treatment pump offers a retinoid at prescription-level strength in an over-the-counter formula. That said, it can make skin dry and flaky - so pair it with sensitive skin-friendly moisturizing products and daily sun protection. You may want to consider talking to your doctor or dermatologist before adding some form of retinoid treatment to your skin care routine.
However, all retinoids must be avoided if you are pregnant or may become pregnant. Speak with your health care provider to help determine which products are safe to use during pregnancy. These products should also be used with caution while breastfeeding.
2. Unclog pores
"Alpha hydroxy acids are chemical exfoliants that help to keep pores open and clear - and keep dead skin cells on the move," says Dr. Robinson. They can help remove dead skin cells that have accumulated on the surface of the skin. This means an exfoliating cleanser with alpha hydroxy acids can be a great face wash for people with adult acne. Also, consider trying CeraVe salicylic acid acne treatment gel, which supplements salicylic acid with a blend of two alpha hydroxy acids, glycolic and lactic.
3. Use moisturizer for acne-prone skin
Skin care for adult acne isn't complete without a moisturizer. "Sebum is produced by the body's own glands on a supply-and-demand system to keep our skin moisturized ," Dr. Robinson says. For some, using an oil-free moisturizer can help skin regulate how much of its own moisture it needs to make.
Because skin can become dry when you're trying out different treatments for adult acne, moisturizing can help keep your skin's moisture barrier balanced. Look for a moisturizer for acne-prone skin that bolsters the barrier with ceramides.
4. Try sulfur
Standard acne treatment ingredients, such as benzoyl peroxide, can be irritating to skin. If you're looking for a skin care routine for sensitive, acne-prone skin, consider using sulfur instead. "Sulfur is gentler but has similar benefits of regulating excess oil," says Dr. Robinson. (Drying lotions tend to dry to a pink color, so you may want to reserve this type of acne treatment for overnight use.)
5. Reduce stress
The American Psychological Association has a number of suggestions about how to tame stress, including better sleep habits, being more physically active and learning how to meditate. While finding your zen won't clear up your skin all by itself, stress may delay healing, so it's something to consider when you have a breakout.