Ácido hialurónico para la piel: lo que debe saber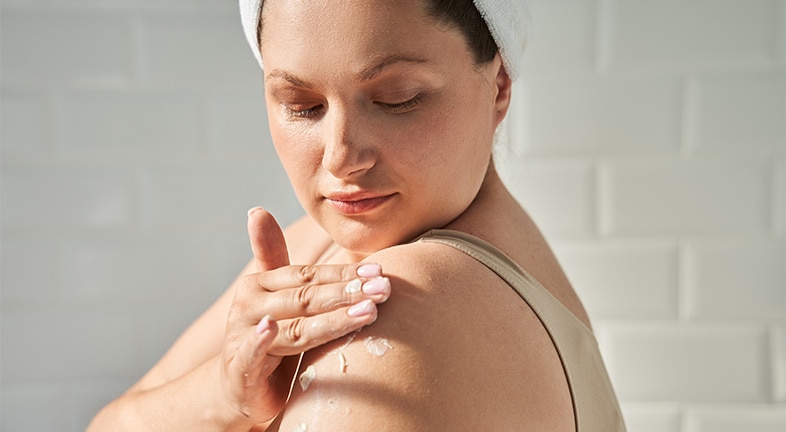 This beginner's guide to hyaluronic acid can help you make the most of the hydrating and smoothing properties of this natural ingredient.
Hyaluronic acid may be the next game-changing addition to your skin care routine. It's a substance naturally produced by the body, and it's found especially in your body's skin, eyes and joints. It may be best known for its ability to help skin with hydration and elasticity, reducing the appearance of wrinkles.
Here are the details you need to know — and some tips on slotting hyaluronic acid into a well-rounded skin care routine.
En este artículo:
What is hyaluronic acid?
"Hyaluronic acid is a natural sugar molecule in our bodies that attracts many times its own weight in water," says Marisa Garshick, MD, a dermatologist in New York City. Additionally, since it's naturally found within the body, hyaluronic acid in beauty products is pretty well tolerated without harmful effects.
The hyaluronic acid produced by our bodies doesn't stay at the same level forever. As detailed in a 2012 study in the journal Dermato-Endocrinology, the level of hyaluronic acid in the epidermis (the outermost layer of skin) decreases as we age, due in part to the cumulative effects of sun exposure. This decrease may ultimately lead to dehydration and a loss of elasticity in skin — meaning skin isn't as firm or smooth as it once was.
What are the benefits of hyaluronic acid?
Hyaluronic acid benefits most people, whatever their skin type, and simply replenishing hyaluronic acid to the epidermis can help improve the look and feel of your skin. "Because hyaluronic acid helps to draw in moisture, it can help to temporarily plump fine lines, wrinkles and other areas on the face with volume loss," Dr. Garshick says.
Does hyaluronic acid help acne? Some research shows it may help control excess sebum production, which can otherwise contribute to clogged pores if left unchecked.
How to use hyaluronic acid
It's useful to know that hyaluronic acid for skin comes in different molecular weights, meaning some types are larger and others are smaller. Those larger molecules might not be absorbed through the skin barrier, Dr. Garshick says. So be on the lookout for formulas with more than one version of hyaluronic acid. For instance, Neutrogena Hydro Boost Purified Hyaluronic Acid Serum features high and low molecular weights of hyaluronic acid to reach different layers of skin.
Under a doctor's care, you can also get hyaluronic acid injections, which are a type of injectable dermal filler. These offer a much more dramatic plumping effect in skin, although their effect is largely temporary.
Choosing the best hyaluronic acid for skin
You'll find hyaluronic acid for the face most commonly in face serums, which typically have higher concentrations of its active ingredients. You can layer hyaluronic acid serums beneath your moisturizer to help boost your skin's hydration.
But it's also present in cleansers and moisturizers, such as Neutrogena Hydro Boost Hydrating Hyaluronic Acid Cleansing Gel y Neutrogena Hydro Boost Hyaluronic Acid Water Gel Moisturizer. In fact, the best hyaluronic acid moisturizers offer strategic pairings: While hyaluronic acid is attracting moisture, other ingredients in the moisturizer can then help skin retain it. "It's best used with a moisturizing cream that helps to support the skin barrier or an occlusive that helps to lock in moisture," Dr. Garshick says. (Occlusive ingredients are those that form a barrier over the skin, which blocks the moisture from evaporating.) Find hyaluronic acid paired with ceramides - which are lipids that fortify the skin's moisture barrier - in CeraVe Hydrating Hyaluronic Acid Face Serum for Normal to Dry Skin.
Hyaluronic acid can also be used from head to toe. Acercar Neutrogena Hydro Boost Body Gel Cream with Hyaluronic Acid, it's infused in a lightweight formula that absorbs quickly. "It's best to apply it to damp skin as hyaluronic acid pulls moisture from the environment," Dr. Garshick says. "If you live in a dry climate or your skin is dry, then hyaluronic acid can pull moisture away from the skin, further drying it out." If you're using it on the face or body (or both), consider applying it as soon as you step out of the shower.
*Este contenido es solo para fines informativos y no constituye un asesoramiento médico. Consulte con su proveedor de cuidado de la salud antes de tomar alguna vitamina o suplemento y antes de comenzar o cambiar alguna práctica relacionada con el cuidado de su salud.