With its fresh and minty fragrance, peppermint oil is used in a wide array of products and applications. This unique oil provides a range of helpful benefits and can be found in an assortment of products ranging from essential oils and beauty products to health supplements. If you're looking for peppermint oil products, CVS has a large inventory of items to choose from. You can sort and search the items you need based on price, brand name, or customer review to find the right items for your needs.
Los miembros de CarePass
TM
Mostrando 1-5 de
5 productos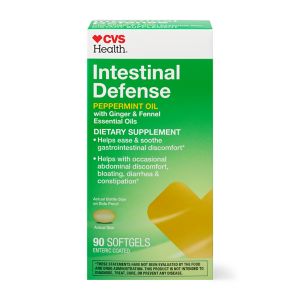 CVS Health Intestinal Defense - Aceite de hierbabuena en cápsulas blandas para la salud intestinal, 90 u.
CVS Health
Compre 1, lleve 1 al 50% - ¡Agregue 2 o más para recibir la oferta!
o
en pedidos de $35 o más.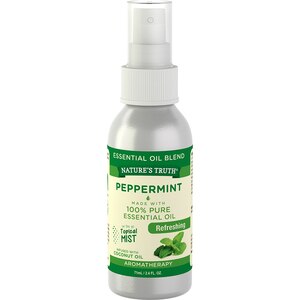 Nature's Truth - Spray de aceites esenciales, Peppermint
Nature's Truth
o
en pedidos de $35 o más.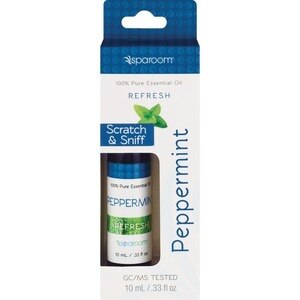 SpaRoom - Aceite esencial de hierbabuena
SpaRoom
o
en pedidos de $35 o más.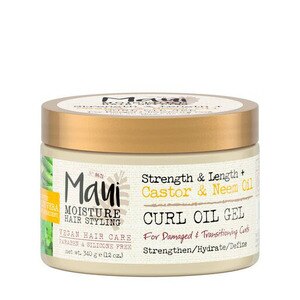 Maui Moisture Strength & Length + Castor & Neem Oil Curl Oil Gel, 12 OZ
Maui Moisture
Compre 1, lleve 1 al 40% - ¡Agregue 2 o más para recibir la oferta!
o
en pedidos de $35 o más.
Los precios en línea puede ser diferentes a los precios en tiendas.
What Is Peppermint Oil?
Peppermint oil is one of the most popular essential oils. Peppermint oil is known for its cooling and refreshing odor and taste. The main components of peppermint essential oil are menthol and menthone. Peppermint oil is incredibly versatile, as it can help to promote hair growth while also helping to relieve nausea and other stomach issues.
What Is Peppermint Oil Good For?
Peppermint oil is extremely versatile. It can be used for aromatherapy as well as internally and topically to help relieve muscle aches, seasonal allergies, low energy and digestive upset. It can also be found in skin care and hair care products. As with any medicinal product, even natural ones, it is important to consult your health care provider before adding to or changing your health routine.
What Are The Benefits Of Peppermint Oil?
With natural antimicrobial and anesthetic properties, peppermint oil can be found in several different medical products. Thanks to its fresh and minty scent and flavor, you'll also find it in a large assortment of breath treatments like gum or breath drops. You can apply peppermint oil to an aching tooth to help soothe and calm the pain, and it's also commonly found in cold treatment products. The fresh and minty scent can help to treat blocked nasal passages and sinuses as well as soothe sore throats.
How To Use Peppermint Oil?
Peppermint oil can be used for many different things. How you use it depend on what those things are. To treat colds and congestion, you can massage 2 - 3 drops of peppermint oil mixed with carrier oil onto your chest or in a humidifier. For a headache or nausea, you can mix the oil with a carrier oil and rub it on your temples or forehead. If you are applying peppermint oil directly to your skin, it is recommended that you mix it with a carrier oil like almond oil to avoid any irritation. Other ways to use peppermint oil include adding a few drops to your bath for muscle soreness relief. Read on to see explore even more peppermint oil uses!
What Are Some Peppermint Oil Uses?
Do you have peppermint essential oil and don't know what to do with it? Don't worry - we have outlined a number of different uses for many health benefits. Peppermint oil has become a staple in many people's medicine cabinets. This essential oil has cooling properties that can help with headaches, muscle aches, itching, and stomach problems.
Peppermint Oil For Hair
When it comes to hair, peppermint oil has its benefits. The most common use of peppermint oil is to help promote hair growth and help prevent hair loss. Peppermint oil can cause a cold feeling when applied due to its ability to increase circulation. This increase in circulation can help to promote hair growth during the growing phase. It has also been found that peppermint oil can increase the number of hair follicles and follicle depth. To incorporate peppermint oil into your hair care routine, you can just mix a couple of drops of essential oil with a carrier oil then massage it into your scalp. Leave it in for five minutes before washing it out and shampooing. There are also hair products that already contain peppermint oil in them as an ingredient.
Peppermint Oil for Aromatherapy
The fresh scent of peppermint oil makes it a popular product for home and spa aromatherapy. The oil can be added to a diffuser to release a pleasant scent into the air and stimulate the mind. This oil helps to heighten the senses while still providing an overall sense of calm. You can also use it whenever you're suffering from a cold to help with breathing. Add it to a humidifier to give your bedroom a fresh scent and to help you breathe more easily. It also adds an uplifting element to body washes, soaps, and other beauty products.
Using Peppermint Oil for Bugs
A surprising use of peppermint oil is that it's known to keep pesky pests like spiders, roaches, and even mice away. There are several ways you can use this oil in terms of pest prevention. One way is to soak cotton balls in the oil and then scatter them around the perimeter of your home, or near any areas where you've seen insects. You can add peppermint oil to a spray bottle and dilute it with water, then spray the solution around your home to prevent pests from getting inside. Use it directly on the skin to serve as an all-natural mosquito repellent. With so many uses, it's no surprise that this oil is such a popular option for health and home.
Where to Buy Peppermint Oil
Peppermint oil can be purchased online or at your local CVS store. Coming in a variety of different formulas from trusted brands, there is a wide selection readily available. Peppermint oil is one of the most versatile and multi-purpose essential oils. Shop now and browse reviews to find the perfect one for you!
Búsquedas relacionadas
essential oil diffusers, corn remover,  ácido bórico