CVS Health - Predictor de ovulación diario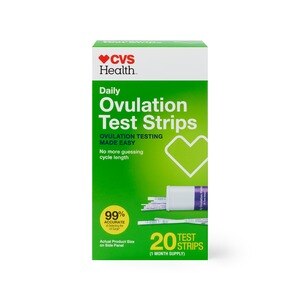 En existencia
for shipping
CVS Health - Predictor de ovulación diario
20 c/u, 09 lb. N.º de artículo 461007
Elegible para HSA/FSA
Elegible para FSA
99% accuracy
1 month supply included
CVS Health Pharmacist Recommended
The CVS Health Daily Ovulation Predictor is 99% accurate at detecting your body's LH surge. With just one simple step, this product can be extremely easy to use and may predict your two most fertile days to help you possibly conceive. Before ovulation, your body produces a large amount of luteinizing hormone or LH. This surge helps you determine your two most fertile days of the month when pregnancy may be most likely to occur.
To read the ovulation predictor, look for two purple colored lines where the test line is the same color or darker than the control line. This indicates that you have detected an LH surge. If there is no LH surge, the unit will show one control line or two lines where the test line is lighter than the control line. Simply place the dipping end of the test strip in fresh urine for approximately 10-15 seconds and do not pass the max fill line.
You can know your two most fertile days by determining the start of your LH surge. With the presence of two similar purple lines, the Daily Ovulation Predictor has detected an LH surge. It can be an easy and simple way to determine when you'll be ovulating 24-36 hours in advance, which can help increase your chances to possibly conceive. With a full one-month supply of 20 test strips, you can take the guesswork out of discovering your two most fertile days. Start testing the day after the end of your period, then test daily for the next 20 days. Test at the same time of the day each day for more reliable results. Please note that hormone levels vary among women. Contains 1 Vial With 20 Test Strips, 1 Cup and 1 English/Spanish Instruction Insert.
Para usar en diagnóstico in vitro. Not for internal use. Store at 36 degrees F - 86 degrees F (2 degrees C - 30 degrees C). Do not freeze. Not for contraceptive use.
Advertencias
Mantener fuera del alcance de los niños.
*Customer reviews and ratings solely reflect the views and opinions of the individual contributors and are not created or endorsed by CVS Pharmacy. Please review the product labeling and consult with your doctor with any health or medical questions.