Los miembros de CarePass
TM
Mostrando 1-20 de
29 productos
Scrubbing Bubbles Fresh Gel - Gel limpieza para inodoro con aplicador, Rainshower, 6 u.
Scrubbing Bubbles
o
en pedidos de $35 o más.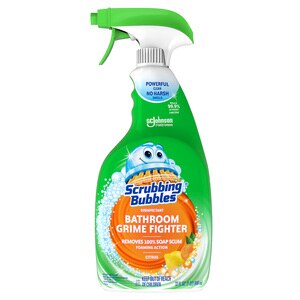 Scrubbing Bubbles Disinfectant Bathroom Grime Fighter Spray, Citrus, 32 fl oz
Scrubbing Bubbles
Envío gratis con pedidos de $35 o más
o
en pedidos de $35 o más.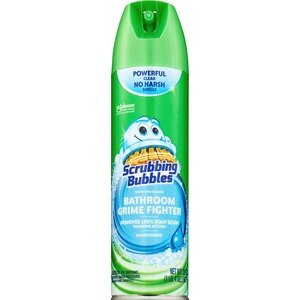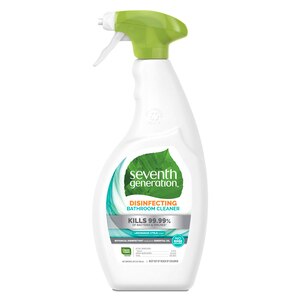 Seventh Generation Lemongrass Citrus Disinfecting Bathroom Cleaner, 26 oz
Seventh Generation
o
en pedidos de $35 o más.
PowerHouse - Limpiador automático para taza de inodoro, 2 pastillas duraderas
PowerHouse
o
en pedidos de $35 o más.
Los precios en línea puede ser diferentes a los precios en tiendas.
Completing all of your daily grooming and personal care tasks can add up to big messes in the bathroom. Fortunately, you can take steps to keep the space looking great and smelling fresh with the right cleaning products. CVS can help you find the best products to conquer any cleaning job with a huge selection of bathroom cleaners that you can browse and buy online.
Using Bathroom Cleaning Supplies
If you're looking for a product that will simplify cleaning your entire bathroom, all purpose bathroom cleaners are an excellent solution. Because these cleaning products are formulated for application on many different kinds of materials, you can use them to clean the floor, the sink, the tub, the shower and more. The product descriptions will give you more information about the types of surfaces that each all purpose bathroom cleaner is suitable for cleaning. All purpose bathroom cleaners are offered in a variety of forms, including wipes, liquids and sprays. Some manufacturers offer products in more than one fragrance, giving you the ability to select a scent that is appealing to you.
All Surface Bathroom Cleaners
Some bathroom cleaners are made specifically for certain types of surfaces. For example, tile and grout cleaner can help you remove soap scum and other impurities from showers, tubs, flooring and other areas of the bathroom that are covered with tile. Surface-specific products may improve cleaning results and make it easier to tackle messes that all purpose cleaners can't manage alone.
Toilet Cleaning Products
Toilets quickly become dirty due to daily use, but you can get the bowl gleaming in no time with the right cleaning products. There are a number of toilet cleaners available for you to choose from. Some products come in liquid form. To use the products, you squeeze or spray the cleaning product into the toilet bowl and then scrub with a brush. Tablet-based toilet cleaning products are another option. These tabs are dropped into the tank, where they dissolve and gradually release cleaning and deodorizing agents. For best results, you should scrub your toilet clean before you add a tablet to the tank.
Natural Bathroom Cleaners
Many people today are striving to use fewer chemicals in their homes. Green cleaning products make it possible to accomplish these goals. You can find a number of bathroom cleaning products that feature extracts from plants and other natural ingredients in place of commonly used chemicals.
A clean bathroom is more than just visually appealing. When you take the time to properly clean your bathroom, you help to eliminate germs that can pose a risk for illness. Considering the job that it does in the bathroom, it's easy to understand how toilets can become unsightly and contaminated with germs. Fortunately, you can take steps to promote a spotless, sanitary toilet with the right cleaning products. CVS offers a diverse assortment of toilet cleaners that you can purchase online and in stores.
Types of Toilet Cleaners
Liquid and gel cleaners provide one method for cleaning toilets. With a liquid or gel toilet cleaner, you squeeze or pour the cleansing product along the inside of the toilet bowl. Then, you can use a brush to distribute the cleaner throughout the bowl. Once cleaning is complete, you flush the toilet to sweep away the cleaner. Gel and liquid toilet cleaners are ideal for removing built-up grime from the toilet bowl as well as for maintaining a clean toilet over time.
How To Clean A Toilet
If you're using a liquid or gel toilet cleaner, extra tools can help you get the most possible benefits from the product. Some people mix water and toilet cleaner in a spray bottle, so that they can apply a fine mist to difficult stains. With their flexible bristles, toilet brushes can scrub debris off of the toilet bowl.
Automatic Toilet Bowl Cleaner
To simplify bathroom cleaning, you can opt for an automatic toilet cleaner. These products are large tablets that you place inside of the toilet tank rather than the bowl. Over time, the tablet dissolves, releasing cleansing agents into the water in the tank. When you flush the toilet, the water travels to the bowl, where the ingredients in the dissolved toilet cleaner fight germs and dissolve impurities. Automatic toilet cleaners cannot remove heavy buildup or stains. As a result, it's best to clean your toilet thoroughly with a liquid or gel cleaning produce before adding a table to your toilet tank. You'll need to add a new tablet periodically. The directions for use will tell you how frequently the automatic toilet cleaner tablet requires replacing.
Stain Removing Toilet Cleaners
If stains persist even after you have used a liquid toilet cleaner, a more intensive cleaning product may be required to get the bowl gleaming. Stain-removing toilet cleaners typically feature stronger ingredients than conventional products and are intended only for occasional use.
Búsquedas relacionadas
best bathroom cleaners, clothing & accessories, mens socks, womens hosiery, womens socks, best trash bags