Cómo conseguirlo
Recogida no disponible
Cambiar tienda
Los miembros de CarePass
TM
Mostrando 81-82 de
82 productos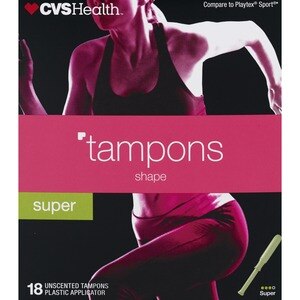 CVS Health Active Tampons, Super, 18CT
CVS Health
Precio con CarePass
™
$4.23
Los precios en línea puede ser diferentes a los precios en tiendas.
Productos relacionados
CVS Health
HSA/FSA EligibleSnap & Go applicator goes from compact to full size in seconds. Finger grips that are specially designed for comfortable usage. Dependable protection - tampon expands to fit your body, helping to prevent leakage.
CVS Health
Includes 18 tampons with super-plus absorbency Super-plus absorbent tampons may be used during the heaviest flow days of your menstrual cycle Plastic applicator offers a gentle, rounded tip for comfortable insertion and an anti-slip oval grip Quiet wrapper allows for ...
Playtex
HSA/FSA Eligible360°™ Sport Level Protection® tampon design to fit your body and its every move for a protective leakage barrier. FlexFit™ interlocking fibers work quickly to trap leaks. OdorShield™ Technology designed to neutralize odors. Contoured Applicator for comfortable, precise ...
Tampons vs Pads
If you're looking for something convenient to use during your period, tampons are an excellent choice. These compact products are easy to use and small in size, which makes them a discreet choice that many women prefer over bulkier maxi pads. Whether you've been using tampons for years or you're new to the idea of using tampons, read on to learn more about these products so you can experience a confident, comfortable monthly period.
What are the Best Tampons Brands?
What Are Tampons For?
Tampons are used to absorb menstrual blood internally, preventing leaks of your menstrual flow from exiting the body.
What Are Tampons Made Of?
The idea of using tampons actually goes back to ancient history, when women used softened papyrus plants to help them deal with their menstrual cycle. Today, tampons come in a variety of sizes and brand names as well as a myriad of styles depending on your needs. Most tampons are made of either cotton, rayon, or a combination of the two. That's because these materials are highly absorbent to help control your menstrual flow. Not all women prefer tampons, but many women do since they're much smaller than pads and can be long-lasting for those with a regular flow.
Are Tampons Safe?
One concern that many women face is the possibility of developing toxic shock syndrome. This rare and dangerous disease affects women who do not change their tampons often enough. In order to prevent this from occurring, you should always change your tampon at least every four to eight hours, depending on your flow and how heavy it is. Make sure you choose a tampon that has an absorbency level that matches your flow for an adequate amount of time. Even if you're not seeing evidence of leaks, you should always change your tampon at a minimum of every six to eight hours to stay safe.
How To Insert A Tampon
Using a tampon may seem intimidating at first, but with a bit of practice, the process is actually easy.
• Practice inserting the tampon during the heaviest part of your period to make insertion easier.
• Some people prefer to sit on the toilet while others prefer to stand up when inserting their tampons. Try both ways to find out which method is right for you.
• Hold the applicator of the tampon using your right hand, or with your left hand if you are left-handed.
• Using your thumb and middle finger, hold the bottom of the larger tube area
• Point the applicator tip toward the vaginal area and insert the applicator. Once the thicker part of the applicator is in, using your index finger to gently push the applicator. This should push the tampon into your vaginal area and out of the tube.
• Use your thumb and middle finger to release the smaller tube, allowing the tampon strings to hang freely, then pull the two tubes out together at the same time.
• You can remove the tampon by gently pulling the string down and forward when you're ready to change to a new one. Dispose of the used tampon safely and in a sanitary manner.
How Do You Know What Size Tampon To Get?
Different packaging claims advertise varying sizes, but deciding upon which one is best for you is determined by your flow, and not necessarily your body shape. Most tampons are approximately the same length but vary in width, or thickness. To figure out which size of tampon to get, keep in mind that thin, light, or junior labeled tampons are designed for lighter flow days. You can tailor your tampon size to your cycle, matching super-absorbent tampons for your heaviest flow days.
What Is The Easiest Tampon To Use?
If you are new to using tampons, finding a tampon with a plastic applicator may offer a more user-friendly experience when inserting. Cardboard applicators may prove more cost-effective, however, and can be viewed as more eco-friendly. For discretion, tampons that do not have an applicator at all may prove to be more travel-sized but may deter you if you are not comfortable inserting them with your fingers alone.
Do Tampons Expire?
Tampons have an expiry shelf life of five years from the date of manufacture. This is only effective if the package is not opened, disturbed, or exposed to moisture. The tampons packaging is not sealed and labeled sterile, so poor storage can lead to mold and bacteria growth. While the bathroom may be the most convenient place, it is important to always store your tampons in a cool and dry place. Use of expired tampons is not advisable even if they look fresh and new. Mold and bacteria are not always visible and can be hidden in the tampon or the applicator.
How Long Can I Wear A Tampon?
To prevent toxic shock syndrome and protect your clothing from being stained by menstrual leakage, your tampon should be changed frequently, and possibly more often than specified on the packaging if you feel it necessary. Ideally your tampon should provide you with coverage for 4 to 6 hours.
Búsquedas relacionadas
organic tampons, panty liner, period pain relief, super tampons, light tampons