RID Lice Treatment Complete Kit - Kit para matar piojos en casa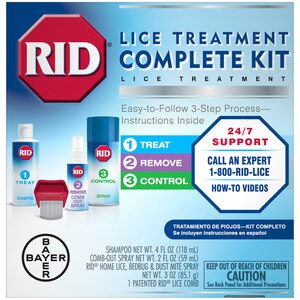 RID Lice Treatment Complete Kit - Kit para matar piojos en casa
1 u., 1.05 lb. N.° de artículo 117632
Elegible para HSA/FSA
If you're wondering how to get rid of head lice, then the RID Lice Complete Treatment Kit might be right for you. This lice treatment kit features a patented 4-step process: treat with the RID Lice Killing Shampoo, spritz hair with RID Lice & Egg Comb-out Spray, thoroughly comb through hair with the RID Lice Comb to remove lice and lice eggs, and spray affected non-washable items with RID Home Lice, Bed Bug & Dust Mite Spray. RID Home Spray contains powerful permethrin to stop lice from spreading on clothing, mattresses, furniture, car interiors, and other non-washable items. Do not use the RID Home Lice, Bed Bug or Dust Mite Spray on the head or body - not for human use. With RID lice treatment, you can say goodbye to the embarrassing, itchy nuisance of lice and put your best foot forward. RID is recommended for adults and kids over 2.
Ingredientes
Lice Killing Shampoo (With Conditioner): Active ingredients: Piperonyl butoxide (4%), Pyrethrum extract (equivalent to 0.33% pyrethrins) Inactive ingredients: ammonium laureth sulfate, dehydrated alcohol, fragrance, isopropyl alcohol, PEG-25 hydrogenated castor oil, polyquaternium-10, purified water Lice & Egg Comb-out Spray: Water, Glycerin, Propylene Glycol, Polysorbate 20, Cetrimonium Chloride, Amodimethicone, Phenoxyethanol, Fragrance, DL Panthenol, Trideceth-12, Methylchloroisothiazolinone, Methylisothiazolinone. Home Lice, Bedbug & Dust Mite Spray: Active Ingredients: Permethrin* 0.50% Other Ingredients**: 99.50% Total: 100.00% * Cis/trans ratio: Max. 55% (+/-) cis and Min. 45% (+/-) trans. ** Contains petroleum distillate
"RID Lice Killing Shampoo (With Conditioner) Important: Read warnings before use Adults and children 2 years and over: Inspect ● check each household member with a magnifying glass in bright light for lice/nits (eggs) ● look for tiny nits near scalp, beginning at back of neck and behind ears ● examine small sections of hair at a time ● unlike dandruff which moves when touched, nits stick to the hair ● if either lice or nits are found, treat with this product Treat ● apply thoroughly to DRY HAIR or other affected area. For head lice, first apply behind ears and to back of neck. ● allow product to remain for 10 minutes, but no longer ● use warm water to form a lather, shampoo, then thoroughly rinse ● for head lice, towel dry hair and comb out tangles Remove lice and their eggs (nits) ● use a fine-tooth or special lice/nit comb. Remove any remaining nits by hand (using a throw-away glove). ● hair should remain slightly damp while removing nits ● if hair dries during combing, dampen slightly with water ● for head lice, part hair into sections. Do one section at a time starting on top of head. Longer hair may take 1 to 2 hours. ● lift a 1- to 2-inch wide strand of hair. Place comb as close to scalp as possible and comb with a firm, even motion away from scalp. ● pin back each strand of hair after combing ● clean comb often. Wipe nits away with tissue and discard in a plastic bag. Seal bag and discard to prevent lice from coming back. ● after combing, thoroughly recheck for lice/nits. Repeat combing if necessary. ● check daily for any lice/nits that you missed ● a second treatment must be done in 7 to 10 days to kill any newly hatched lice ● if infestation continues, see a doctor for other treatments Children under 2 years: ask a doctor RID Lice & Egg Comb-out Spray ● Before using, read Consumer Information Insert for complete directions. ● Use AFTER shampooing with RID® Lice Killing Shampoo. ● Towel dry hair. Apply a small amount of RID® Lice & Egg Comb-Out Spray and use a wide-toothed comb to remove any tangles. ● Comb out the dead lice, eggs, and nits, one small section at a time, with the enclosed RIDvantage® Jr. Lice Comb. (See insert for additional combing instructions). This step is very important. ● Use additional RID® Lice & Egg Comb-Out Spray to remove tangles, if needed, during the comb-out process. ● After you have combed entire head, rinse hair thoroughly with warm water. Disinfect combs with hot water (130ºF). RID Home Lice, Bedbug & Dust Mite Spray DIRECTIONS FOR USE It is a violation of Federal law to use this product in a manner inconsistent with its labeling. READ ENTIRE LABEL BEFORE EACH USE - Use Restrictions ● Do not allow adults, children, or pets to enter until vapors, mists and aerosols have dispersed, and the treated area has been thoroughly ventilated. ● Do not allow adults, children, or pets to enter the treated area until sprays have dried. ● In the home, all food processing surfaces and utensils should be covered during treatment or thoroughly washed before use. Exposed food should be covered or removed. ● Remove pets, birds and cover any water inhabited by fish (such as aquariums and ornamental fish ponds) before application. Turn off aquarium filtering systems before spraying and wait approximately 15 minutes after application before turning the filter back on. ● This product is not for use on humans. If lice infestations should occur on humans, use a product labeled for use on humans. ● Application is prohibited directly into sewers or drains, or to any area like a gutter where drainage to sewers, storm drains, water bodies, or aquatic habitat can occur. Do not allow the product to enter any drain during or after application. SHAKE WELL BEFORE USING Remove protective cap, hold container upright with nozzle away from you. Depress valve and spray from a distance of 8-10 inches (12-15 inches for baseboards, moldings and floors). Test product on an inconspicuous area before applying to check for possible staining or discoloration. Inspect again after drying. Spray to the point of dampness but not run-off. Over application may cause damage. Will not stain surfaces or fabrics where water alone causes no damage. To kill Lice and Louse Eggs: Spray entire area to be treated. Spray each square foot for three seconds. Allow all sprayed articles to dry thoroughly before use. Spray only those parts of bedding, including mattresses and furniture that cannot be either laundered or dry cleaned. Do not use on sheets or pillowcases. Bedbugs: Spray mattresses, particularly around tufts and seams. Take beds apart and spray into all joints. Treat baseboards, moldings and floors. After mattress is dry, cover with mattress cover and sheet. Do not use mattress without a cover. Retreat if infestation occurs, but not more than once every two weeks. To Kill House Dust Mites (Dermatophagoides spp.): RID® Home Lice, Bedbug & Dust Mite Spray helps control house dust mites that may cause asthma, hay fever, rhinitis, watery eyes and sneezing. One treatment lasts for up to 8 weeks. On Upholstered Furniture, carpets and curtains - test fabric in an inconspicuous area to insure dyes will not bleed. Hold container upright with nozzle away from you. Depress valve and spray from a distance of 8 to 10 inches. Spray all fabric surfaces until damp. Do not use on delicate fabrics. Allow furniture to dry thoroughly before using. On Carpets - spray over entire carpet until damp. Hold the nozzle approximately 12 to 18 inches from the carpet surface and spray in a sweeping motion. Use an overlapping pattern to insure total coverage. After application, brush the surface of the carpet with a broom or brush to insure deep penetration. Allow carpet to dry thoroughly before reentering the treated area. Drying time can be accelerated by using a fan. On Mattresses - spray the top, bottom and sides of mattresses until damp, paying particular attention to tufts and seams. Allow to dry thoroughly before using. After mattress is dry, cover with mattress cover and sheet. Do not use mattress without a cover. Vacuum entire area once dry. Since vacuuming stirs dust up in the air those with allergies should have another person vacuum or should wear a dust mask and use vacuum with a high efficiency particulate (HEPA) filter. STORAGE AND DISPOSAL Pesticide Storage: Store in a cool, dry area away from children and pets and away from heat, sparks and open flame. Do not transport or store below 32ºF (0ºC). Pesticide Disposal and Container Handling: Do Not Puncture or Incinerate. If empty: Place in trash or offer for recycling if available. If partly filled: Call your local solid waste agency for disposal instructions. This container may be recycled in aerosol recycling centers. At present, there are only a few such centers in the country. Before offering for recycling, empty the can by using the product according to the label."
Advertencias
RID Lice Killing Shampoo (With Conditioner): For external use only Do not use • near the eyes • inside the nose, mouth, or vagina • on lice in eyebrows or eyelashes. See a doctor if lice are present in these areas. • if you have ever had an allergic reaction to this product or any of its ingredients Ask a doctor before use if you are allergic to ragweed. May cause breathing difficulty or an asthmatic attack. When using this product ● keep eyes tightly closed and protect eyes with a washcloth or towel ● if product gets in eyes, flush with water right away ● scalp itching or redness may occur Stop use and ask a doctor if ● breathing difficulty occurs ● eye irritation occurs ● skin or scalp irritation continues or infection occurs Keep out of reach of children. En caso de ingerir el producto, acuda al médico o a un centro de control de intoxicaciones de inmediato. RID Lice & Egg Comb-Out Spray: For external use only. Mantener fuera del alcance de los niños. Evite el contacto con los ojos. No usar: si alguna vez ha tenido una reacción alérgica a este producto o a cualquiera de sus ingredientes. RID Home Lice, Bedbug & Dust Mite Spray FIRST AID: If Swallowed: Immediately call a poison control center or doctor. Do not induce vomiting unless told to do so by a poison control center or doctor. Do not give any liquid to the person. No dar nada por boca a una persona inconsciente. If in Eyes: Hold eye open and rinse slowly and gently with water for 15-20 minutes. Si usa lentes de contacto, quíteselos, deje pasar 5 minutos y siga enjuagando el ojo. Llame a un centro de control toxicológico o médico para que le indiquen qué hacer. If on Skin or Clothing: Take off contaminated clothing. Rinse skin immediately with plenty of water for 15-20 minutes. Llame a un centro de control toxicológico o médico para que le indiquen qué hacer. HOT LINE NUMBER: Have the product container or label with you when calling a poison control center or doctor, or going for treatment. For additional information on this product (including health concerns, medical emergencies or pesticide incidents), you may call 1-888-740-8712. NOTE TO PHYSICIAN: Contains petroleum distillate - vomiting may cause aspiration pneumonia. PRECAUTIONARY STATEMENTS - HAZARDS TO HUMANS & DOMESTIC ANIMALS CAUTION: Harmful if absorbed through skin. Causes moderate eye irritation. Avoid contact with skin, eyes or clothing. Wash thoroughly with soap and water after handling and before eating, drinking, chewing gum, using tobacco or using the toilet. PHYSICAL OR CHEMICAL HAZARDS Contents under pressure. Do not use or store near heat or open flame. No perforar ni incinerar el envase. Exposure to temperatures above 130ºF (54ºC) may cause bursting.
*Las reseñas y calificaciones de los clientes reflejan únicamente la opinión y punto de vista de los contribuyentes individuales y no son creadas ni avaldas por CVS Pharmacy. Revise las etiquetas del producto y consulte a su médico si tiene alguna pregunta médica o de salud.
RID Lice Treatment Complete Kit - Kit para matar piojos en casa