Accesorios para el cabello
Cómo conseguirlo
Recogida no disponible
Cambiar tienda
Los miembros de CarePass
TM
Mostrando 1-20 de
343 productos
Accesorios para el cabello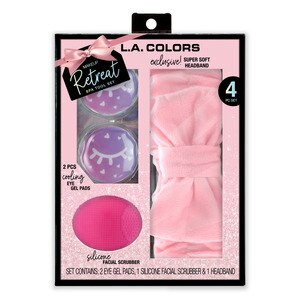 Envío gratis con pedidos de $35 o más
Turbie Twist - Toalla para el cabello de microfibra estampada
Turbie Twist
o
en pedidos de $35 o más.
o
en pedidos de $35 o más.
Los precios en línea puede ser diferentes a los precios en tiendas.
What are the Best Hair Accessories Brands?
How To Organize Hair Accessories
From hair elastics and scrunchies to hair clips and claws, it's important to keep all of your favorite hair accessories organized. Place hair accessories like Scunci No Damage Thich Hair Elastics in your makeup bag or a small plastic bin with a tray to keep them in place. You can also add pegs to the back of your closet door or hang some hooks on the bathroom walls to organize hair accessories. The key is to keep them separated so they don't get tangled together. You can put clips like the Beauty 360 Jaw Clips in an organizer tray or train case to keep them all together and in one place. Hang items like the Conair Comfort Fit Shower Caps and headbands on hooks so that they're not bunched up. This will also prevent hair accessories from getting wrinkled.
How To Use Hair Accessories
It's important to know how to use hair accessories so you can look and feel your best. When using hair ties and elastics, avoid putting your hair up in a ponytail or updo that's too tight. Instead, loosely wrap the hair tie around until it's snug enough to hold your hair without feeling too tightly wrapped. Invisibobble hair rings are a great alternative to elastics and won't snag or tug on your hair. For jaw clips and standard clips, use them to create a beautiful and easygoing updo. You can also use items like the GSQ by GLAMSQUAD Gold Half Moon Hair Clip to create a stunning ponytail with a bit of shimmering glam. Get creative and come up with new ways to use hair accessories. Whether it's a classic ponytail, two clips to the sides, or a bun, they make creating your favorite hairdos quick and easy.
Are Hair Accessories Available For Same Day Pickup?
Yes Hair Accessories are available for same day pickup at most locations, check your local stores availability and add to cart to pick up today.
Does CVS Deliver Hair Accessories?
Yes, CVS offers free fast shipping on Hair Accessories orders over $35. Most orders are delivered within 1-4 days.
How To Save On Hair Accessories From CVS
Save on Hair Accessories from CVS by joining ExtraCare and BeautyClub or enroll in Carepass and enjoy your first month Free!
Accesorios para el cabello
How you style your hair can bring you from looking drab to fab with hair clips or a cute headband. If you are always fighting to keep your hair out of your face or are having a bad hair day, all you need are your favorite hair accessories and some knowledge on how to style your hair. Luckily, you have come to the right place! We make it easy to find both of those things here at CVS.
Best Hair Accessories For You Hair
Short Hairstyles
Figuring out how to style short hair can be a struggle. Follow these tips and tricks to achieve cute short hairstyles so you can finally keep your hair out of your face and look stylish while doing so!
Take the sections of hair towards the front of your face that bother you and twist them back and away, securing them with a bobby pins on either side of your head. This twisted hairstyle is so cute and simple that people will be complimenting you all day!
Half up hairstyles are a huge trend right now and they are a cute, super easy option for you short-haired girls. First, add texture to your hair with a sea salt spray . This will add grip and give you a beachy and tousled look. Then, section off the hair above your ears and simply put it in a ponytail. From there, you can keep it as is or wrap it into a messy bun and it will look like you spent a lot of time on your updo.
Long Hairstyles
Hair ties are a long haired girl's best friend. When in doubt, just braid your hair. Your hair may look like a frizzy mess, but the second you braid it, it will look great! A messy bun is another great solution. When you put those two together, you'll be turning heads! First, braid your hair how you normally would and secure it with a polyband to hide your hair elastic . Then, wrap the braid around the base of the ponytail holder to make a bun, secure it with some bobby pins, and there you go - a braided bun!
Want to have your hair up but still want to show off your length? Sweep up the hair above your ears and put it in a loose ponytail. Separate the hair above the elastic and tuck the end of the ponytail up and under the space you created to make a twisted pony! There you have it - a stylish and easy hairstyle!
Hair Hacks Using Hair Accessories
Overnight Heatless Curls
If you're wondering how to wake up to curls overnight, this method is simple and only requires one item: a cintas para el cabello. You will want to start out with hair that is 80% dry. First, put the hair band over your head and twist a section of hair away from your face. Take that twist and tuck it over and under the headband, repeating until the twist is completely wound around the head wrap. Continue this process for the rest of your hair.
Tip: To reduce frizz in the morning, sleep with a satin sleeping cap over your hairstyle!
Don't have the patience for the headband technique? You can opt for hair rollers! With our wide selection of hair rollers, you will be able to achieve any type of curl. With flexible rollers, you can easily create bouncy, spiral curls just by wrapping your hair around the rods and bending the ends to keep your hair in place overnight while your curls take shape. If you know how to use flexible rod rollers, you will know how to use foam hair rollers. Hair foam rollers work in the same way and come in a variety of sizes to help you achieve the look you desire. Foam hair rollers will leave you with soft curls in the morning without any creases!
Tip: Place larger rollers by the roots of your hair and near your face to create a more voluminous, blown out hairstyle.
Bobby Pins For Up-dos
Ever have an issue with your bobby pins sliding out? You are probably using them the wrong way. Make sure the wavy side is facing down towards your head! The waves grip onto your locks, making it so that your updo won't budge.
Tip: Crisscross two bobby pins for extra hold to lock in your look.
Spray your bobby pins with spray para el cabello or dry shampoo before putting them in your hair. This will make the hair pins sticky and help to ensure that they stay put all day.
You don't always have to hide your bobby pins! Try the exposed bobby pin trend. Pick bobby pins that contrast with your hair color and position them to make a design. You can make a triangle to hold up your half up, half down hairdo or pin your bangs back with a chevron pattern by creating shapes with the hair pins. Get creative with different bobby pin colors and design patterns!
Ponytail Holders & Hair Elastics
Ponytail hairstyles are the easiest type. To ramp up this playful yet effortless look, split the pony horizontally and put one of your small hair clips in the middle of the base to give your ponytail an extra lift. Have thin hair but want the appearance of a fuller, longer ponytail? You're in luck because you can achieve that look with just two hair ties. First, section off the hair above your ears and simply put it in a ponytail. Then, take the remaining hair and put that into a ponytail as well, securing it with a hair elastic as close to the top ponytail as possible. To finish it off, tease the top ponytail to make the two look like one! Try wrapping a small piece of hair around your ponytail holder and pin it with a bobby pin to create a more polished, classier look.
Hair Clips & Other Hair Accessories
Sometimes the smallest details can totally change your look - whether that be a hair twist or a bobby pin design! Stock up on must have hair accessories like hair curlers, hair clips, bobby pins, shower caps, and hair ties to give your hair the chance to look great every day.
Búsquedas relacionadas
l oreal total repair 5 review, hair dye deals, dove shampoo ingredients, t gel shampoo ingredients, nexxus shampoo ingredients