Mucinex DM 12 Hr Max Strength Expectorant & Cough Suppressant Tablets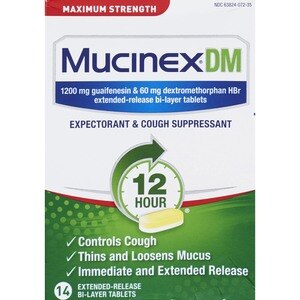 En existencia
for shipping
Mucinex DM 12 Hr Max Strength Expectorant & Cough Suppressant Tablets
14 u., .07 lb. N.° de artículo: 430367
Quiets wet & dry coughs
Thins & loosens mucus that causes chest congestion
Starts to work right away & lasts for 12 hours
Maximum Strength, Extended-release bi-layer tablet
Age verification required for purchase
* State restrictions apply for shipping. Below are the states that are eligible for shipping.
Alabama
Arkansas
Connecticut
Georgia
Hawái
Idaho
Illinois
Indiana
Iowa
Kansas
Maine
Maryland
Massachusetts
Minnesota
Misisipi
Misuri
Montana
Nebraska
Nuevo Hampshire
Nuevo México
Carolina del Norte
Dakota del Norte
Oklahoma
Rhode Island
Carolina del Sur
Dakota del Sur
Utah
Vermont
Wyoming

Mucinex DM Ingredients
Active Ingredientss: In Each Extended-Release Bi-Layer Tablet: Dextromethorphan HBr (60 mg), Guaifenesin (1200 mg).
Uses: Helps loosen phlegm (mucus) and thin bronchial secretions to rid the bronchial passageways of bothersome mucus and make coughs more productive. Temporarily Relieves: cough due to minor throat and bronchial irritation as may occur with the common cold or inhaled irritants; the intensity of coughing; the impulse to cough to help you get to sleep.
Advertencias
Advertencia sobre la salud hepática: este producto contiene acetaminophen. Severe liver damage may occur if you take: more than 6 doses in 24 hours, which is the maximum daily amount; with other drugs that contain acetaminophen; 3 or more alcoholic drinks daily while using this product. Advertencia de dolor de garganta: Si el dolor de garganta es intenso, dura más de 2 días, está acompañado o seguido de fiebre, dolor de cabeza, erupción, náuseas o vómitos, consultar a un médico de inmediato. Do not use: with any other drug containing acetaminophen (prescription or nonprescription) (If you are not sure whether a drug contains acetaminophen, ask a doctor or pharmacist); with any other drug containing diphenhydramine, even one used on the skin (Night Time Cold & Flu only); if you are now taking a prescription monoamine oxidase inhibitor (MAOI) (certain drugs for depression, psychiatric, or emotional conditions, or Parkinson's disease), or for 2 weeks after stopping the MAOI drug (If you do not know if your prescription drug contains an MAOI, ask a doctor or pharmacist before taking this product); for children under 12 years of age. Ask a doctor before use if you have liver disease; heart disease; high blood pressure; thyroid disease; diabetes; trouble urinating due to an enlarged prostate gland; glaucoma (Night Time Cold & Flu only); a breathing problem such as emphysema or chronic bronchitis (Night Time Cold & Flu only); persistent or chronic cough such as occurs with smoking, asthma, chronic bronchitis, or emphysema; cough that occurs with too much phlegm (mucus). Ask a doctor or pharmacist before use if you are taking the blood thinning drug warfarin; taking sedatives or tranquilizers (Night Time Cold & Flu only). When using this product: do not use more than directed; excitability may occur, especially in children (Night Time Cold & Flu only); marked drowsiness may occur (Night Time Cold & Flu only); alcohol, sedatives, and tranquilizers may increase drowsiness (Night Time Cold & Flu only); avoid alcoholic drinks (Night Time Cold & Flu only); be careful when driving a motor vehicle or operating machinery (Night Time Cold & Flu only). Stop use and ask a doctor if: nervousness, dizziness, or sleeplessness occur; pain, nasal congestion, or cough gets worse or lasts more than 7 days; fever gets worse or lasts more than 3 days; redness or swelling is present; new symptoms occur; cough comes back, or occurs with fever, rash, or headache that lasts. Estos podrían ser indicios de una afección grave. Advertencia para embarazo/período de lactancia: Si está embarazada o en período de lactancia, consulte a un profesional de la salud antes de usar el producto. Mantener fuera del alcance de los niños. Advertencia de sobredosis: tomar más de la dosis recomendada (sobredosis) puede producir daño hepático. En caso de sobredosis, acuda a su médico o comuníquese de inmediato con un centro de control de intoxicaciones. Es fundamental buscar atención médica para adultos y niños rápidamente, aunque no advierta ningún signo o síntoma. Otras advertencias: cierre de seguridad: no usar si la banda de la tapa de la botella está rota o falta. Do not take the Mucinex Fast-Max Day Time Severe Cold and the Mucinex Fast-Max Night Time Cold & Flu liquids at the same time. Do not take more than a total of 6 doses in a 24-hour period. Ingerir solo como se indica. Niños menores de 12 años: no usar.
*Customer reviews and ratings solely reflect the views and opinions of the individual contributors and are not created or endorsed by CVS Pharmacy. Please review the product labeling and consult with your doctor with any health or medical questions.
Mucinex DM 12 Hr Max Strength Expectorant & Cough Suppressant Tablets