Nature's Way Alive! Once Daily Women's 50+ Ultra Potency Tablets, 60 CT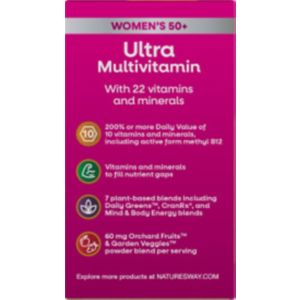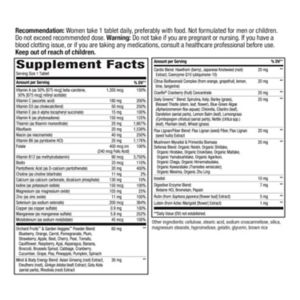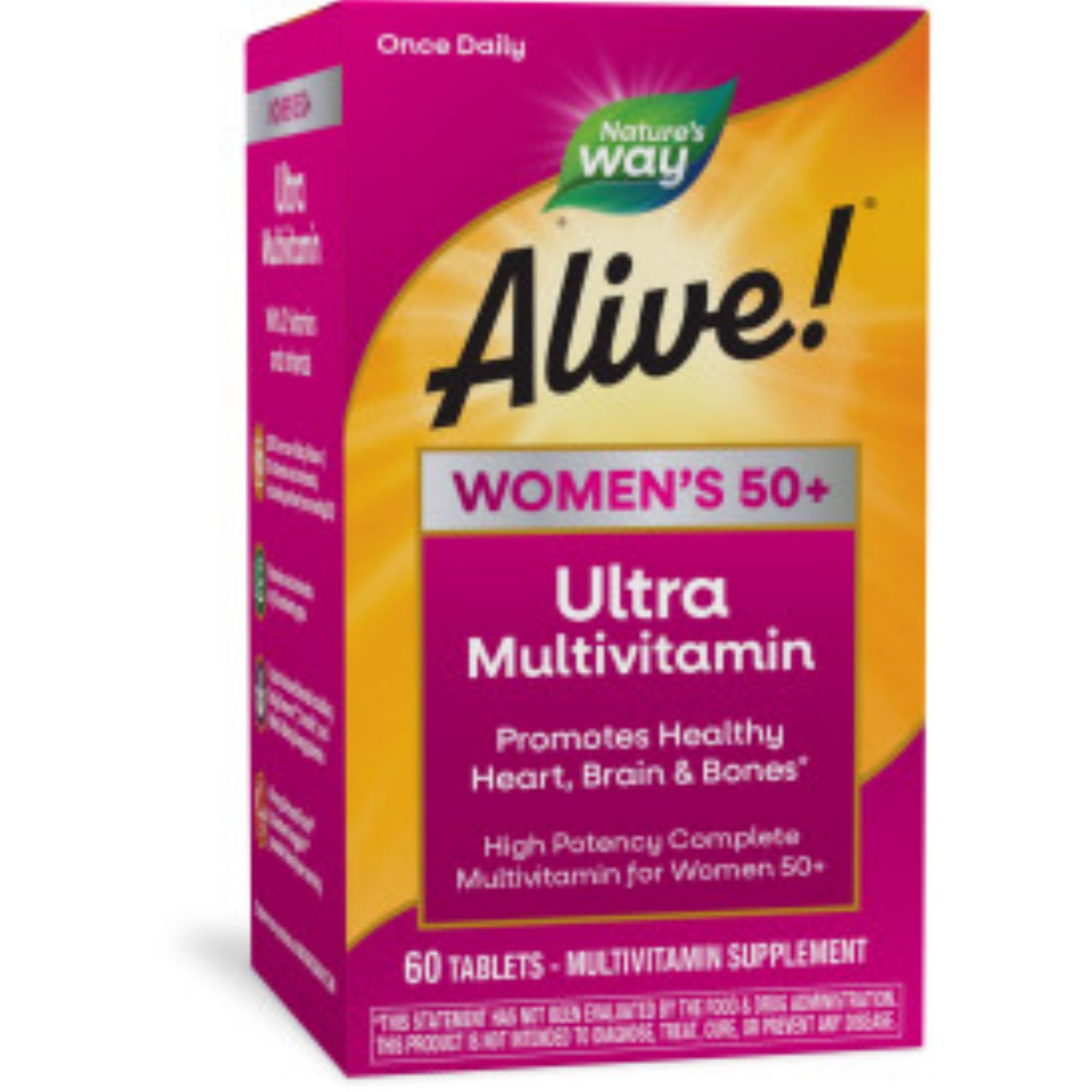 Nature's Way Alive! Once Daily Women's 50+ Ultra Potency Tablets, 60 CT
60 u., 0.36 lb. N.° de artículo 863109
Complete ultra potency daily multivitamin, specially formulated for women age 50+.
Specifications

| | |
| --- | --- |
| Problema | Huesos y articulaciones |
| Formulario | Tablets, capsules & caplets |
| Key ingredient | Enzima |
| Product type | Multivitaminas |
| Cantidad | 1-60 ct |
Vitamin A (as 50% [675 mcg] beta carotene, 50% [675 mcg] retinyl acetate); Vitamin C (ascorbic acid); Vitamin D3 (as cholecalciferol); Vitamin E (as d-alpha tocopheryl succinate); Vitamin K (as phytonadione); Thiamin (as thiamin mononitrate); Riboflavin; Niacin (as niacinamide); Vitamin B6 (as pyridoxine HCl); Folate (837 mcg Quatrefolic® brand (6S)-5- Methyltetrahydrofolate glucosamine salt); Vitamin B12 (as methylcobalamin); Biotin; Pantothenic Acid (as D-calcium pantothenate); Choline (as choline bitartrate); Calcium (from Aquamin® calcified mineral source red algae Lithothamnion sp. [whole plant] and as dicalcium phosphate); Iodine (as potassium iodide); Magnesium (from Aquamin® calcified mineral source red algae Lithothamnion sp. [whole plant]) and as magnesium oxide); Zinc (as zinc oxide); Copper (as copper sulfate); Manganese (as manganese sulfate); Orchard Fruits™ & Garden Veggies™ Powder Blend: Blueberry, Orange, Carrot, Pomegranate, Plum, Strawberry, Apple, Beet, Cherry, Pear, Tomato, Cauliflower, Raspberry, Acai, Asparagus, Banana, Broccoli, Brussels Sprout, Cabbage, Cranberry, Cucumber, Grape, Pea, Pineapple, Pumpkin, Spinach; Mind & Body Energy Blend: Asian Ginseng Extract (root), Eleuthero (root), Ginkgo biloba Extract (leaf), Gotu Kola (aerial parts), Rhodiola rosea Extract (root); Cardio Blend: Hawthorn (berry), Japanese Knotweed Extract (root), Coenzyme Q10 (ubiquinone); Citrus Bioflavonoid Complex (from orange, grapefruit, lemon, lime, tangerine); CranRx® Cranberry fruit concentrate; Daily Greens™ Blend: Spirulina, Kelp, Barley (grass), Blessed Thistle (stem, leaf, flower), Blue-Green Algae (Aphanizomenon flos-aquae), Chlorella (micro-algae), Cilantro (leaf), Dandelion (aerial parts), Lemon Balm (leaf), Lemongrass (Cymbopogon citratus) (aerial parts), Nettle (Urtica spp.) (leaf), Plantain (leaf), Wheat (grass); Flax Lignan/Fiber Blend: Flax Lignan Fiber (seed) Flax Lignan Extract (seed hulls); Mushroom Mycelial & Primordia Biomass Defense Blend: Organic Reishi (Ganoderma lucidum), Organic Shiitake (Lentinula Edodes), Organic Oyster Hiratake (Pleurotus ostreatus), Organic Enokitake (Flammulina velutipes), Organic Maitake (Grifola frondosa), Organic Yamabushitake (Hericium erinaceus), Organic Agarikon (Fomitopsis officinalis), Organic Chaga (Inonotus obliquus), Organic Himematsutake (Agaricus brasiliensis/blazei), Organic Kawaratake (Trametes versicolor), Organic Mesima (Phellinus linteus), Organic Zhu Ling (Grifola umbellate); Inositol; Digestive Enzyme Blend: Betaine HCl, Bromelain, Papain; Rutin (from Sophora japonica) (flower bud) Extract; Lutein (from Aztec marigold Extract) (flower); Cellulose; Stearic Acid; Sodium Croscarmellose; Silica; Magnesium Stearate; Hypromellose; Gelatin; Glycerin; Brown Rice
Tamaño de la porción:
1 tableta
Porciones por recipiente:
60
Nutrientes
Cantidad por porción
Valor diario en %
Biotin
Ácido fólico
Riboflavina (vitamina B2)
Vitamina C (ácido ascórbico)
Vitamina B12 (como cianocobalamina)
Manganeso (como sulfato de manganeso)
Vitamina D (como colecalciferol)
Rutina
Inositol
Niacina (como niacinamida)
Ácido pantoténico (como D-pantotenato de calcio)
Tiamina (como mononitrato de tiamina)
Cromo (como picolinato de cromo)
Complejo bioflavonoide cítrico
Cinc (como óxido de cinc)
Molibdeno (como molibdato de sodio)
Yodo (como yoduro de potasio)
Selenio (como selenato de sodio)
Boro (como quelato de aminoácidos)
Vitamina K (como fitonadiona)
Cobre (como sulfato de cobre)
Vitamina E (como D-Alfa tocoferol succinato)
Colina (como bitartrato de colina)
Mezcla de enzimas digestivas
Luteína (de caléndula)
Vitamina B6 (como piridoxina HCI)
Mezcla de espirulina/alimentos verdes
Mezcla de frutas de huerta
Mezcla de verduras de jardín con jugo en polvo
Trigo
Calcio (de la Algae Lithothamniom Sp. roja, fuente de mineral calcificado Aquamin [planta completa])
Magnesio (de la Algae Lithothamniom Sp. roja, fuente de mineral calcificado Aquamin [planta completa], como citrato/óxido)
Mezcla cardiovascular con resveratrol
Mezcla fortalecedora de champignones orgánicos
Flax Lignan Blend with SDG Lignans
Vitamina A (50% [3750 IU] como vitamina A, acetato y 50% [3750 IU] como betacaroteno)
Mezcla energizante para la mente y el cuerpo
CranRx Urinary Anti-Adherence 100% Whole Cranberry
325 mcg
800 mcg
25 mg
120 mg
225 mcg
5 mg
1000 IU
5 mg
10 mg
50 mg
40 mg
25 mg
250 mcg
20 mg
15 mg
75 mcg
150 mcg
250 mcg
1 mg
100 mcg
2 mg
100 IU
10 mg
20 mg
1 mg
40 mg
20 mg
30 mg
30 mg
0
200 mg
100 mg
20 mg
20 mg
20 mg
7500 IU
30 mg
20 mg
108%
200%
1471%
200%
3750%
250%
250%
0%
0%
250%
400%
1667%
208%
0%
100%
100%
100%
357%
0%
125%
100%
333%
0%
0%
0%
2000%
0%
0%
0%
0%
20%
25%
0%
0%
0%
150%
0%
0%
Women take 1 tablet daily, preferably with food.
Not formulated for men or children. Do not exceed recommended use.
*Las reseñas y calificaciones de los clientes reflejan únicamente la opinión y punto de vista de los contribuyentes individuales y no son creadas ni avaldas por CVS Pharmacy. Revise las etiquetas del producto y consulte a su médico si tiene alguna pregunta médica o de salud.
Nature's Way Alive! Once Daily Women's 50+ Ultra Potency Tablets, 60 CT