Pamprin Maximum Strength Max Formula - Analgésico en cápsulas para el dolor menstrual, 24 u.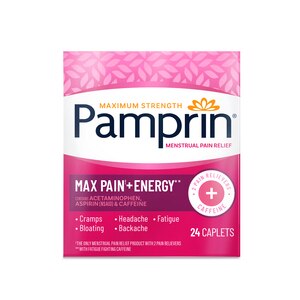 Pamprin Maximum Strength Max Formula - Analgésico en cápsulas para el dolor menstrual, 24 u.
24 u., .25 lb. N.° de artículo: 373369
Elegible para HSA/FSA
With pain relieving aspirin and acetaminophen, Pamprin Max is formulated to provide complete relief of menstrual cramps, headaches, backaches and fatigue. Pamprin Max includes caffeine, which acts as a diuretic, which relieves bloating and water weight gain many women experience. With both aspirin and acetaminophen for pain relief to alleviate cramps, headaches, backaches & muscular aches, and caffeine for water weight gain, fatigue and bloating, Pamprin Max offers complete coverage for PMS symptoms.
Ingredientes
Acetaminophen 250 mg Aspirin 250 mg NSAID Caffeine 65 mg Nonsteroidal Anti-Inflammatory Drug
Directions adults and children 12 years and over: • take 2 caplets with water every 6 hours as needed • do not exceed 8 caplets in a 24 hour period or as directed by a doctor • do not use more than directed (see warnings) children under 12 years: ask a doctor
Advertencias
Warnings Reye's syndrome: Children and teenagers who have or are recovering from chicken pox or flu-like symptoms should not use this product. Si al usar este producto notara algún cambio en su comportamiento con síntomas como náuseas y vómitos, consulte a un médico ya que podrían ser un indicio temprano del síndrome de Reye, una enfermedad poco común pero muy grave. Allergy alert: Aspirin may cause a severe allergic reaction which may include: • hives • facial swelling • asthma (wheezing) • shock Allergy alert: Acetaminophen may cause severe skin reactions. Symptoms may include: • skin reddening • blisters • rash If a skin reaction occurs, stop use and seek medical help right away. Advertencia sobre la salud hepática: este producto contiene acetaminophen. Severe liver damage may occur if you take • more than 8 caplets in 24 hours, which is the maximum daily amount • with other drugs containing acetaminophen • 3 or more alcoholic drinks every day while using this product Stomach bleeding warning: This product contains an NSAID, which may cause severe stomach bleeding. The chance is higher if you: • take a blood thinning (anticoagulant) or steroid drug • have had stomach ulcers or bleeding problems • are age 60 or older • take other drugs containing prescription or nonprescription NSAIDs [aspirin, ibuprofen, naproxen, or others] • have 3 or more alcoholic drinks every day while using this product • take more or for a longer time than directed Caffeine warning: The recommended dose of this product contains about as much caffeine as a cup of coffee. Limit the use of caffeine-containing medications, foods, or beverages while taking this product because too much caffeine may cause nervousness, irritability, sleeplessness, and occasionally, rapid heartbeat. Do not use • if you are allergic to aspirin or any other pain reliever/fever reducer • with any other drug containing acetaminophen (prescription or nonprescription). Si no está seguro si un medicamento contiene acetaminophen, consulte a un médico o farmacéutico. Ask a doctor before use if • you have liver disease • the stomach bleeding warning applies to you • you have a history of stomach problems, such as heartburn • you have high blood pressure, heart disease, liver cirrhosis, or kidney disease • you are taking a diuretic Ask a doctor or pharmacist before use if you are taking a prescription drug for gout, diabetes, or arthritis Stop use and ask a doctor if • an allergic reaction occurs. Seek medical help right away. • you experience any of the following signs of stomach bleeding: • feel faint • vomit blood • have bloody or black stools • have stomach pain that does not get better • redness or swelling is present • new symptoms occur • pain gets worse or lasts more than 10 days • fever gets worse or lasts more than 3 days • ringing in the ears or loss of hearing occurs If pregnant or breast-feeding, ask a health professional before use. Es muy importante que no tome aspirina durante los últimos 3 meses de embarazo a menos que sea bajo estricta indicación de un médico ya que podría causar problemas en el bebé por nacer o complicaciones durante el parto. Mantener fuera del alcance de los niños. En caso de sobredosis, acuda a su médico o comuníquese de inmediato con el Centro de Control de Intoxicaciones. Es fundamental buscar atención médica para adultos y niños rápidamente, aunque no advierta ningún signo o síntoma.
*Customer reviews and ratings solely reflect the views and opinions of the individual contributors and are not created or endorsed by CVS Pharmacy. Please review the product labeling and consult with your doctor with any health or medical questions.